Greek Islands - an Overwhelming Combination of Beauty and Tranquility

Greece has more than one thousand islands, among which close to 200 are inhabited. These islands are scenic, blessed with many beautiful beaches, and are source of calmness and energy. This article provides an overview of the Greek islands and summarizes the key highlight of some selected islands and offers a message places_to_visit.append(Greek_islands).
Greek islands are categorized into four categories. First, Saronic islands situated near Athens. Second, Sporades islands near the second largest Greek island Euboea. Third, Ionian islands that are in the west side of mainland Greece. Fourth, Cyclades islands, a dense collection of islands, in the center of Aegean sea and fifth, Dodecanese islands situated between Crete (the biggest Greek island) and Turkey.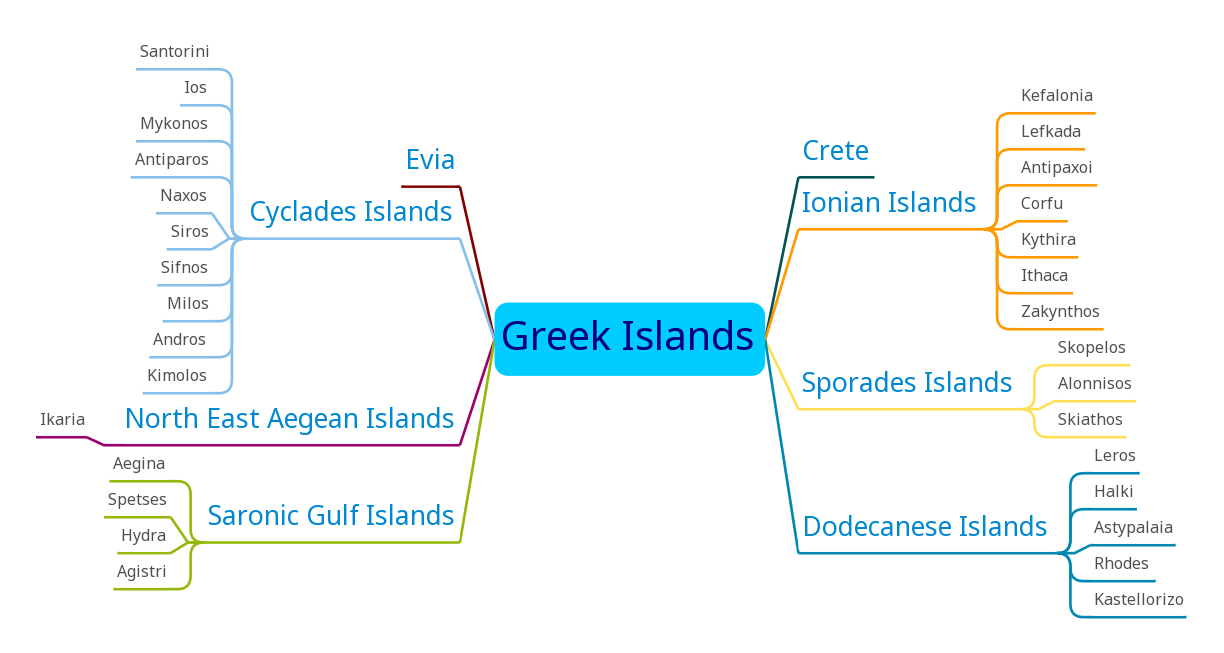 Selected Greek islands
This article is prepared by using the inputs provided by Greek students as one of the assignments for 'Software Engineering in Practice' course at AUEB in the spring 2019 that we designed to make them learn Git and GitHub. The original repository can be found here; I am presenting the curated version of the repository with my own touch.
Crete
Crete is the largest and one of the most distinctive and beautiful Greek islands. It stands far to the south of the country and has its own unmistakable culture and atmosphere. The north coast of the island is the most populated area, and most well known to tourists. Heraklion (or Iraklion) is the island's capital and the main entry point to the island. Rethymnon and Chania (pronounced as Hania) to the west are much more pleasant and retain a distinct Venetian influence. To the east, Agios Nikolaos is one of the island's major tourist attraction.
I wrote about Crete in a separate post. See Crete – Where I Lost and Found Myself at the Same Time
Evia
The island of Evia (or Euboea) is one of the closest to Athens and yet it is rather unknown. Second in size to Crete, it stretches from the tip of the Pelion Peninsula all the way south to the coast of Attika. It's southern tip is just a short distance from the Cycladic islands of Andros and Kea though unfortunately there is no ferry connection. It is so close to the mainland that you can drive to it. Evia has been and remains a popular summer holiday destination for Greeks and Greek-Americans, Canadians, Australians and others whose families originally came from the island. The topography of the island is as varied as anywhere in Greece, with sparkling Aegean beaches and coves on its east coast, a mountainous interior with rivers, streams and forests, a west coast that is a mix of beaches, the city of Halkida, large towns, industry, agriculture, beaches and wetlands. In the northwest, the town of Edipsos is the most popular spa in Greece with hot water gushing from rocks and crevices into the sea and pools of the many hotels and healing centers.
Ionian Islands
Kefalonia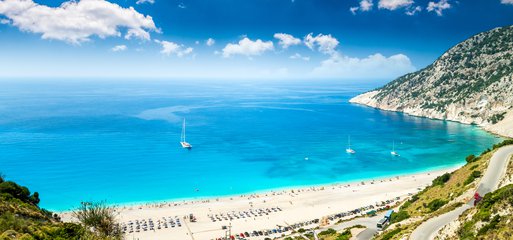 Kefalonia's Myrtos beach (image credit)
Kefalonia is the largest of the Ionian islands. The sapphire waters of Kefalonia are steeped with history. Kefalonia is considered by many the home to Odysseus, the legendary king hailed in Homer's The Odyssey. Explore the enchanting caverns of the Drogarati caves, sail to Ithaca on a glass-bottomed boat or marvel at the ancient artifacts inside the Archaeological Museum of Argostoli, Kefalonia's main town or just hide from it all at one of the island's many private beach coves.
Restaurants
Entertainment
Beaches
Myrtos
Antisamos
Makris Gialos
Skala
Lourdas
Foki Fiskardo
Lefkada
Kavalikefta Beach on Lefkada (image source)
Some people do not consider Lefkada an island because it has a narrow link that connects it to the mainland. However, once you are in Lefkada, you can instantly recognize the difference between being on Lefkada and on the mainland.
Restaurants
Beaches
Egremni - One of the 13 places in the world with the bluest water among Maldives and Palawan.
Megali Petra - Translated to "Big Rock" got its name from the rocks scattered around the beach and the bottom of the sea.
Antipaxoi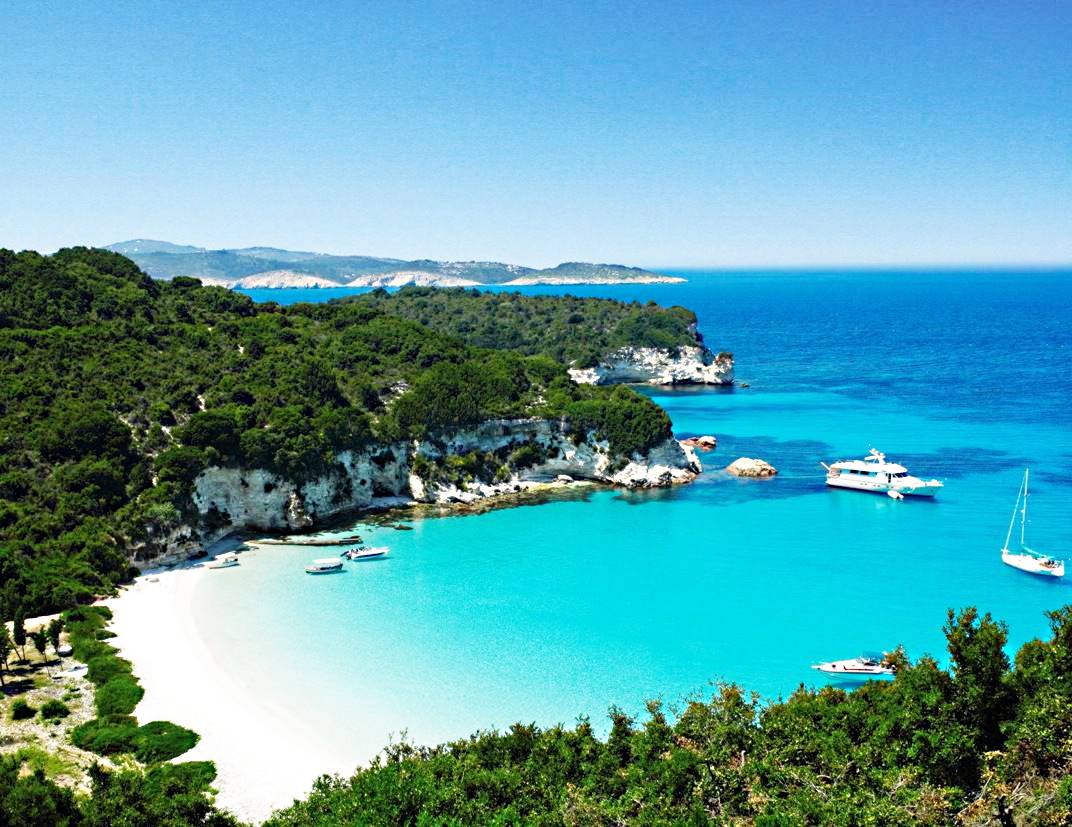 Voutoumi beach (image source)
Antipaxoi is famous for breathtaking beaches. The easiest way to get to Antipaxoi is take a small boat from Gaios. If you are a fan of camping you can also try it in Antipaxoi.
After you finish your relaxing time at the beautiful beach of Antipaxoi you can take the same small boat and visit the wonderful caves that are located in different spots around the island accessible only by boat. By the way, you can rent your own boat!
Beaches
Vrika Beach - A beautiful beach with light-blue and green water
Restaurants
Corfu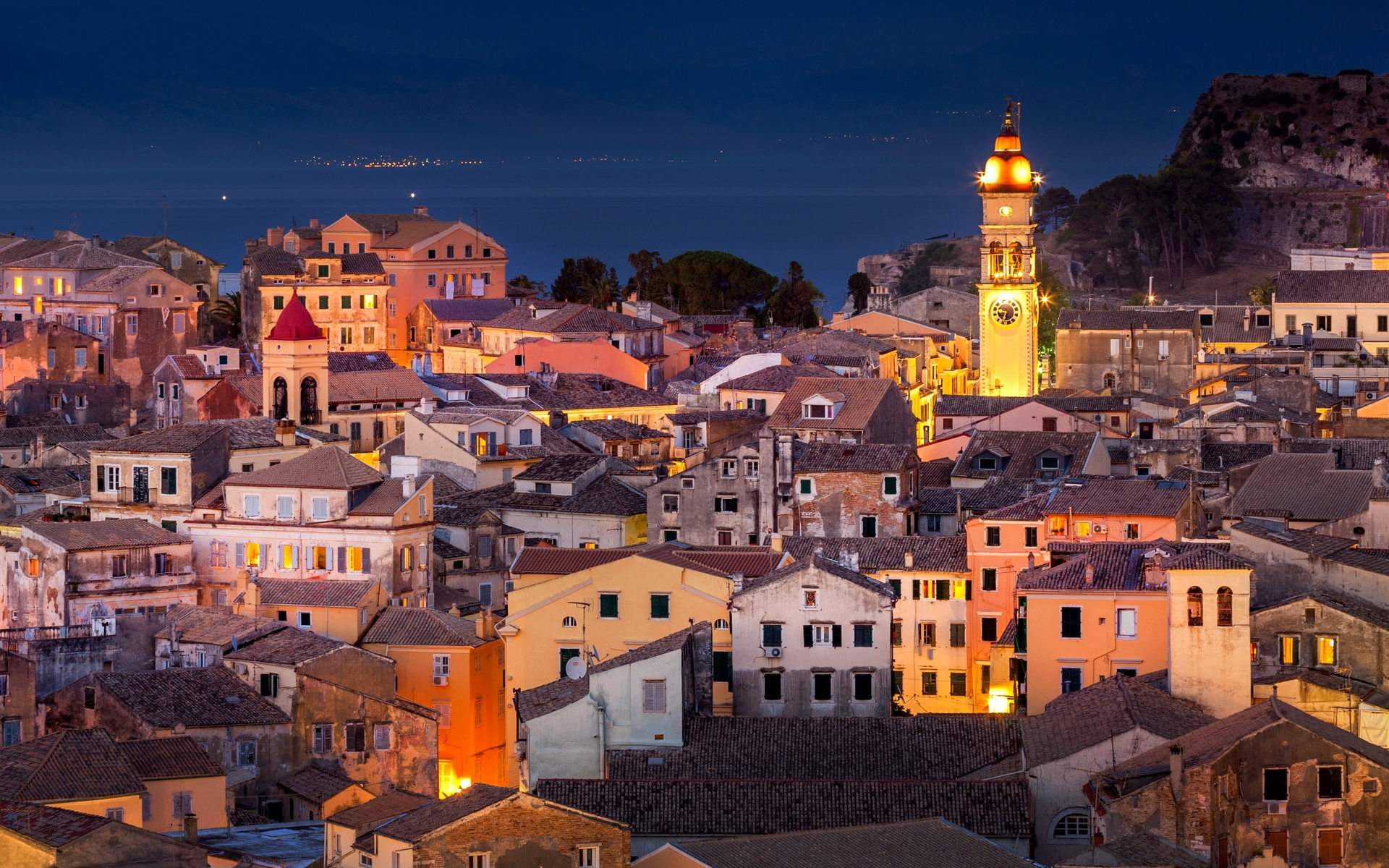 The town of Corfu (image source)
Corfu is the second largest island among the Ionian islands. It has been a part of Greek mythology many times but now it is mostly known for its aged Venetian architecture. Well if you are not intrigued by an island that has amazing beaches, mountains to climb, lush vegetation to give you all the green you want to see, traditions and nice cuisine then at least visit it to see a landmark protected by UNESCO.
Beaches - Porto Timoni- Go down a mountain to find yourself on a junction where you may choose to go one of the two stunning sand beaches. - Cape Drastis - The road is a bit difficult so you will need a jeep or you can just walk down and arrive in a small beach where you can either enjoy the sun and do a spa with natural clay mask you can just pick up from the ground or the rocks - Canal D'Amour
Attractions - Olive Oil Tasting - Aqualand - Corfu Old Town - Vlacherna Monastery & Mouse Island - Achilleion
Night life
Kythira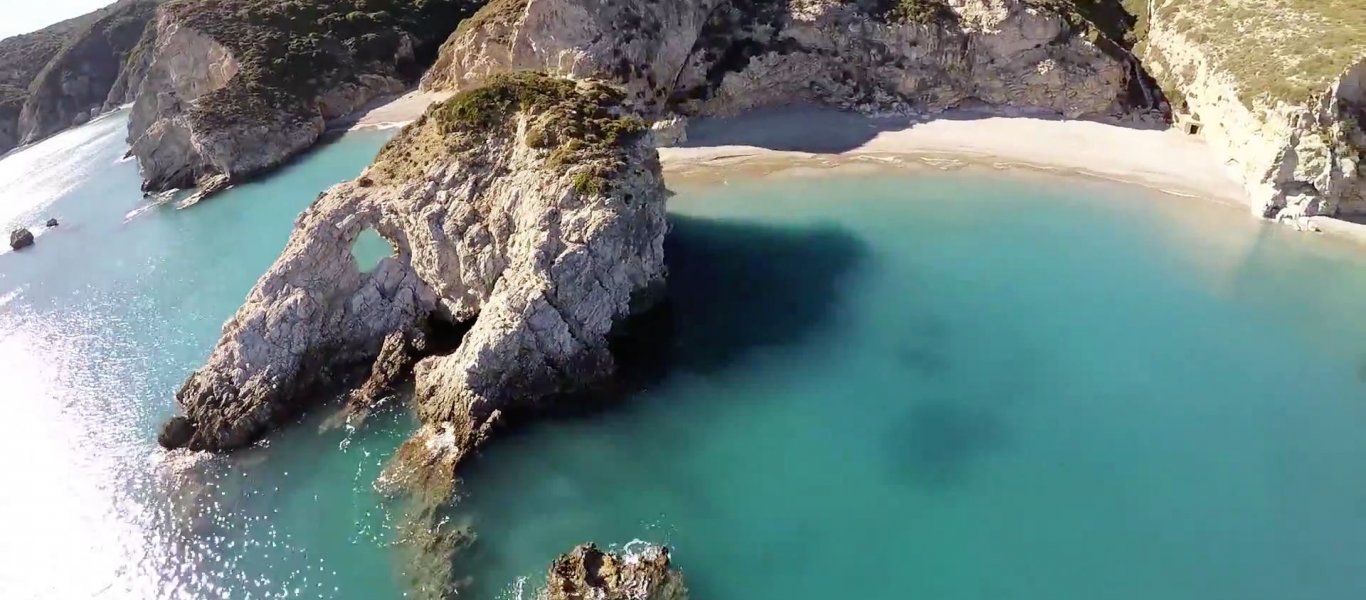 Kaladi beach (image source)
It is located under Pelopponese and the combination of the 3 open seas around it. The island was a crossroad for merchants since the ancient times and also a fortress during wars due to its significant strategic position. The result of that reflects on the island's architecture, traditions and customs. Beside it's diversity, Kythira is also believed to be the island of Aphrodite, an ancient godess-protector of pure love. Due to that, during the modern days the island is believed to have an ability to create and maintain pure forever-lasting relationships for its occupants and visitors, which is also the reason why many couples visit the island annually.
Beaches
Kaladi
Melidoni
Diakofti
Kapsali
Tips from locals
You need to take captain Spyros Glass Bottom boat to the small island of Hytra - the only place where the local flower Sempreviva grows. There you can use Captain Spyros equipment to dive into the light blue waters and if you're a bit lucky you may find sea turtles staring at you.
Ithaca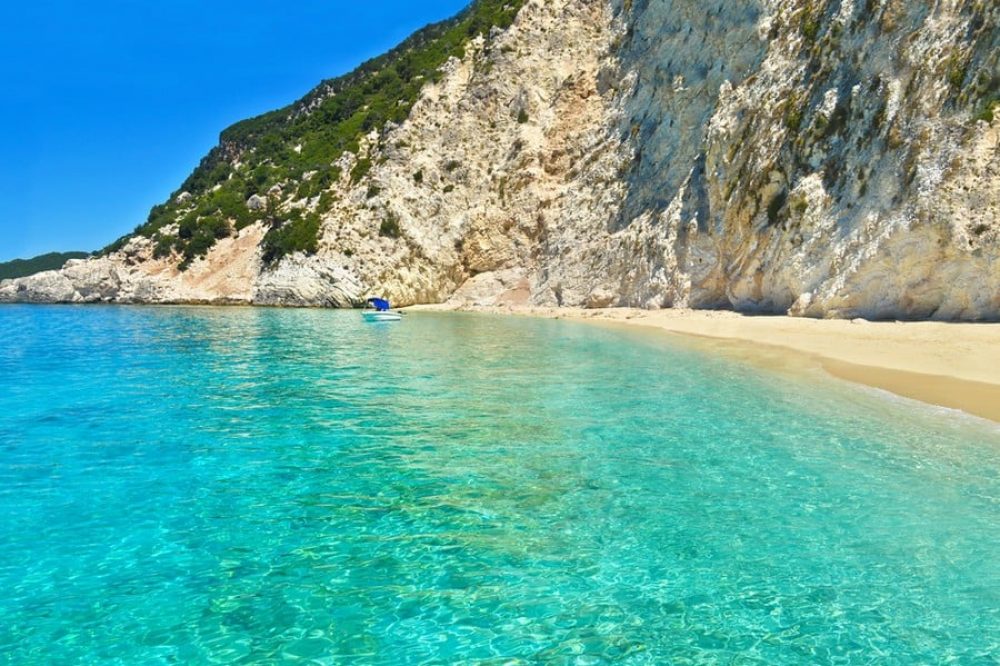 Platia Ammos (Image source)
Odysseus's adventurous journey to his homeland of Ithaca made this island mythical and immortal. The intense alternations of the landscape, adorned with the beauties of wild and calm nature, make up a provocatively special relief. Its traditional settlements, deep blue waters, and many scenic landscapes are waiting for you to visit them.
Beaches
Platia Ammos
Dexa
Sarakiniko
Filiatro
Gidaki
Restaurants
Tsirimbis Restaurant - a local tavern that exists since 1956.
Sirens - a combination of local and gourmet cuisine.
Hanou Patisserie - located in the central square of the island; famous for its sweets.
If you are an adventure lover, you can visit Odyssey Diving and Sea Kayak Club where you can find the equipment for every sea activity. You can explore the bottom of the sea and some of the secret beaches.
Zakynthos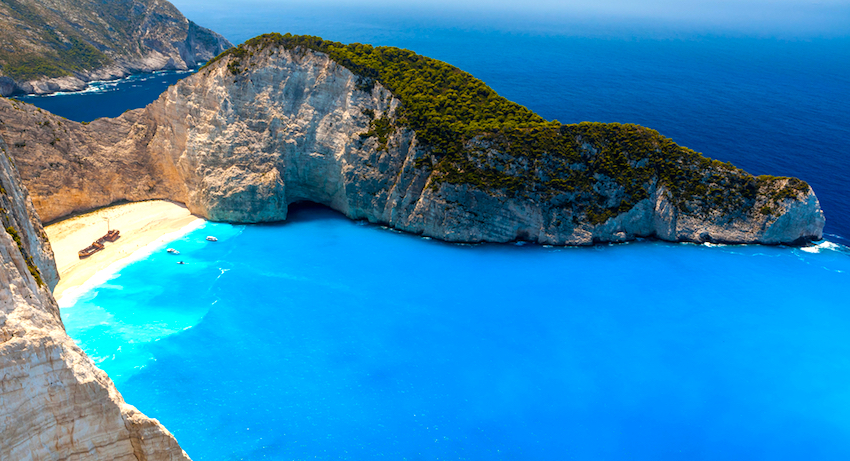 Shipwreck breach in Zakynthos (image source)
Zakynthos (Zante) is a verdant island endowed with valleys. The diversity of its landscape has resulted in different types of beaches - there are sandy beaches in secluded coves with deep blue water as well as rugged cliffs and an interesting underwater world will give you a sense of tranquility.
Beaches
Kalamaki beach is 8 KM away from Zakynthos town. Opposite to it stands the popular Cameo island accessible by a wooden bridge that has a cafe-bar and a tiny beach with shallow and warm sea water.
Makris Yialos is 25 KM away from Zakynthos town. The sea water is clear, deep and blue appropriate for scuba diving. There are numerous caves to be explored.
Porto Limnionas is a coast with magical natural beauty. It is located next to village Agios Leon. The beach has rocks surrounding the coast where the sea water is deep, crystal clear, and perfect for diving.
Laganas is the most popular part of the island, famous for its intense nightlife. There are plenty of nightclubs along the main road. Greek music is seldom heard, since Laganas mainly hosts foreign tourists. Many bars organize karaoke nights, quizzes and various other entertaining games. Many cafes show movies or sports matches on big screens.
Cyclades Islands
Santorini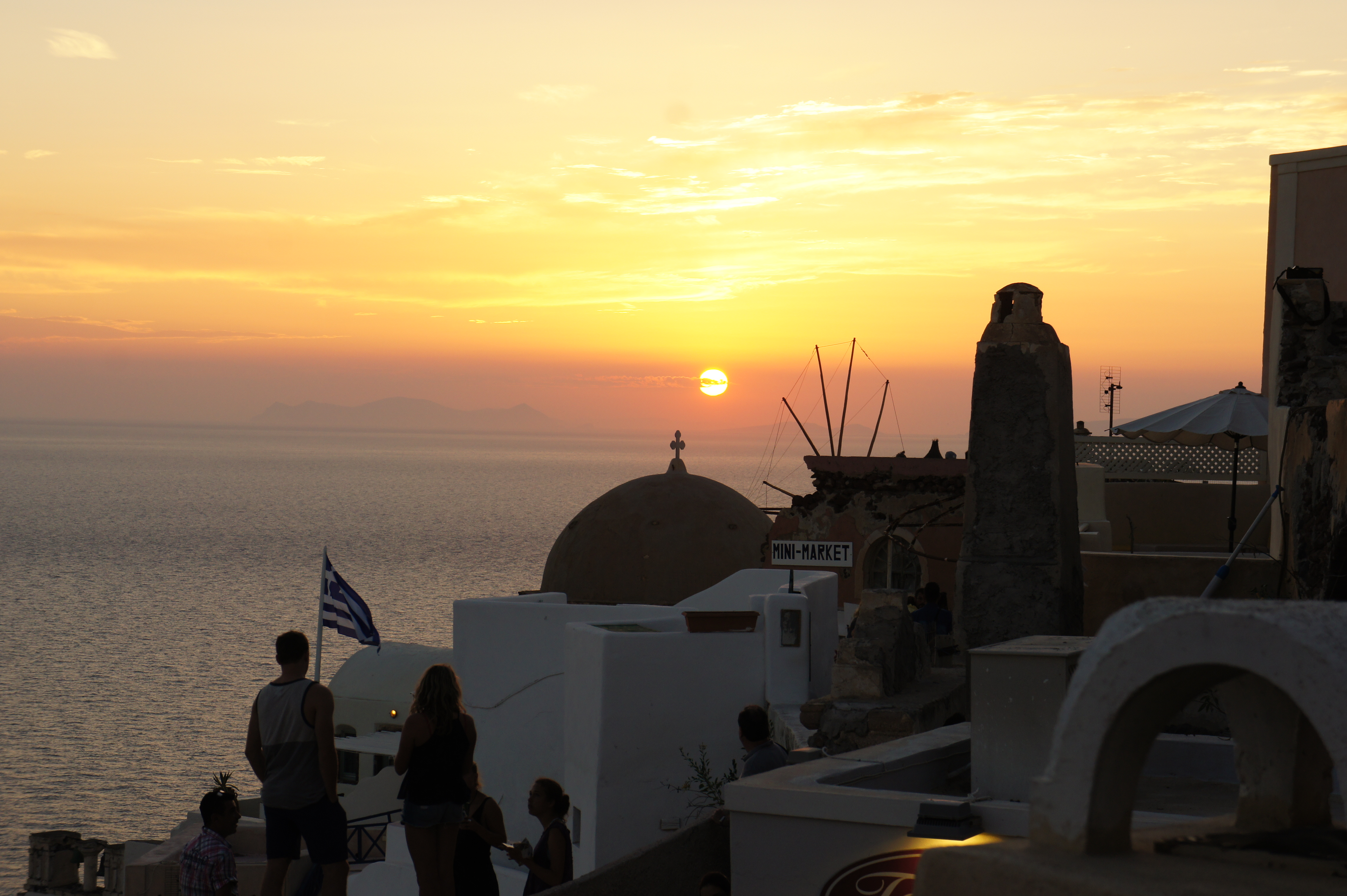 Sunset in Oia
Santorini or Thira or Stroggylh (older name) is an island located in the south of Aegean Sea, part of Cyclades. Today Santorini is one of the most famous tourist destinations worldwide. The ground is volcanic and from the side of the volcano the island is extremely rocky. The most iconic things of the island is the mesmerizing sunsets that you can witness and traditional white-and-blue Greek houses.
Things to do
Be the part of iconic sunset at Oia and click awesome photographs of sunset with blue dome churches/houses
Walking tour to Volcano
Wine tour
Visit the archeological site of Akrotiri
I wrote my experiences of Santorini in this post.
Ios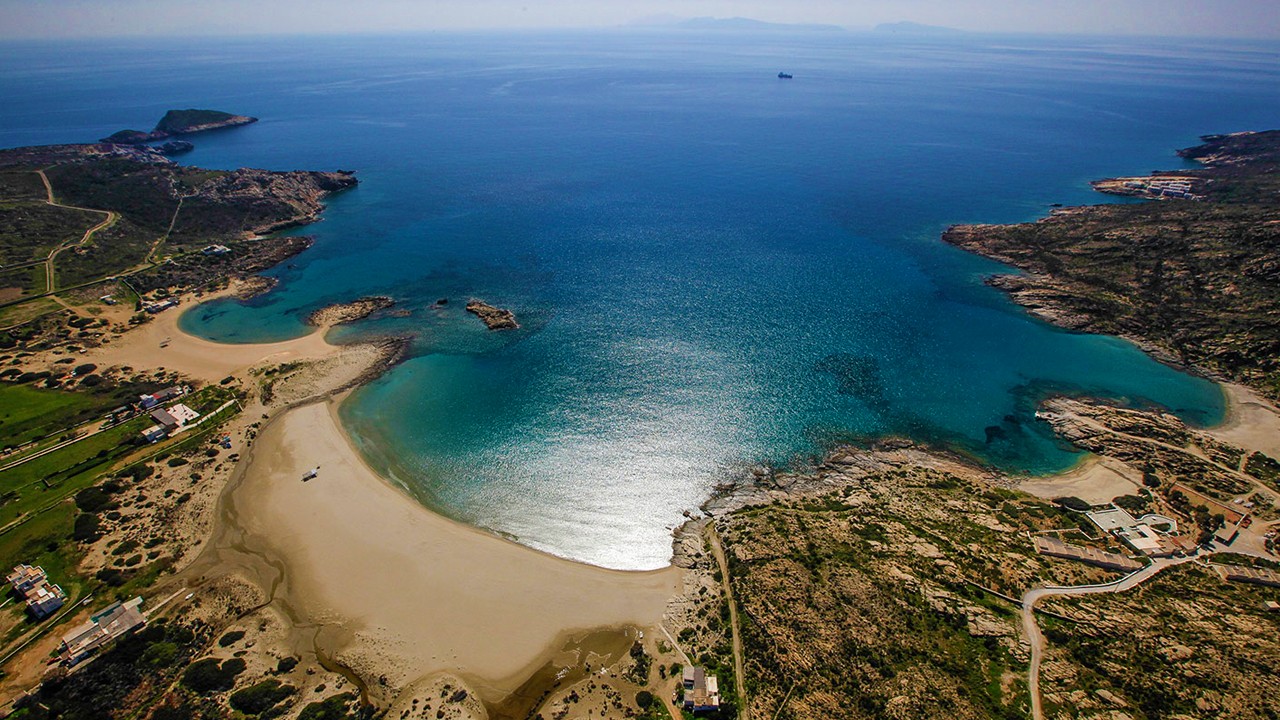 Ios (Image source)
Ios is located in Aegean between Santorini and Naxos. This small island stands out with it's golden beaches and crystal clear waters. It is well known for its vibrant night life.
Beaches
Sightseeing
Little church of Agias Eirinis (17th century)
Tomb of Homer
Ruins of byzantine fort in Paliokastro
Archaeological Museum
Windmills
For the party lover, Far Out Beach Club is the to-go place. It is a club near the beach that offers accommodation and a pool. It is one of the most crowded places in Ios and is considered the best place to party in summer. You can be in your swimsuit dancing all day with great DJs on deck and get a temporary colorful "I ❤ Ios" tattoo from the body painters.
Ios (Far out Beach club (Image source)
Mykonos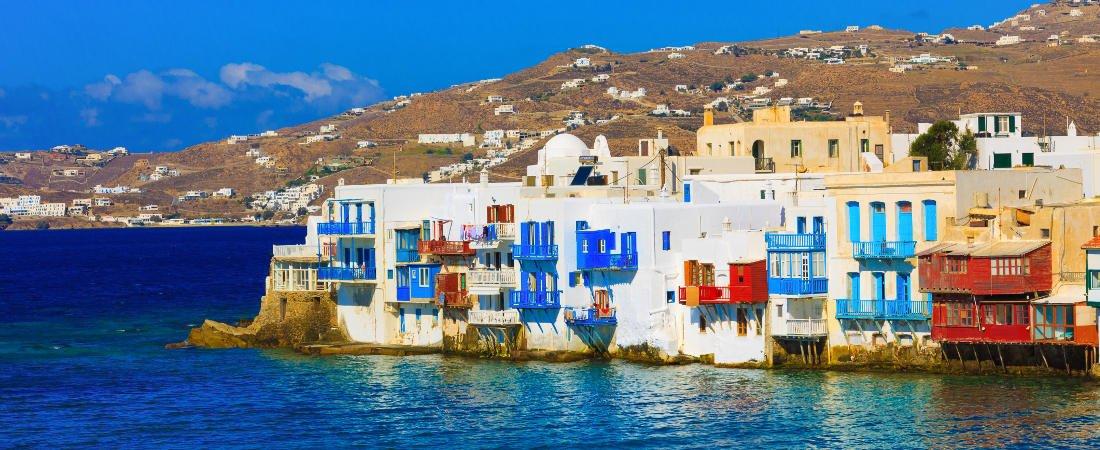 Mykonos (Image source)
Mykonos's nickname is "The Island of the Winds". Mykonos is known for its vibrant nightlife and it is considered the most famous cosmopolitan island in the world. In addition, it has many establishments catering for the LGBT community.
According to mythology, Mykonos was formed from the petrified bodies of giants killed by Hercules. The island took its name from the grandson of Apollo, "Mykonos".
Water sports
The island is a paradise for water sport enthusiasts! It is natural that the "Island of the Winds" attracts surfers and sailors from all over the world! There is a great choice of beaches for windsurfing; however, the most secluded ones are considered to be the best. Choose from Kórfos, Fteliá, Meyáli Ámmos and Kalafátis, where surfing lessons are also available. Diving fans can do a little exciting exploration of the underwater magic of Mykonos. September is considered to be the best month for diving, as the water is warm and visibility is good down at the seabed.
Food
Don't miss the opportunity to treat yourself to some local Aegean specialties! Pepper flavoured kopanistí, a soft cheese seasoned with pepper, is the island's gastronomic trademark. Try it as a topping on a round rusk spread with grated tomato, a favourite local mezés (appetiser). Meat eaters can sample "loúzes" (cooked pork filet with spices) and tasty local sausages sprinkled with pepper, and local oregano that has been caressed by the sun and dried in the north wind. To finish off your meal you can sample two exceptionally good local pastries, amigdalotá (small round cakes with ground almond, rosewater and caster sugar) and honey pie.
Nightlife
Mykonos is the top destination for the active and crazy nightlife. The famous nightlife and fun are the key ingredients that attract many young people from all over the world every year. Amazing beaches, elegant nightclubs and beach bars with DJs and international parties at all hours of day and night make Mykonos won rightfully the nickname "party island".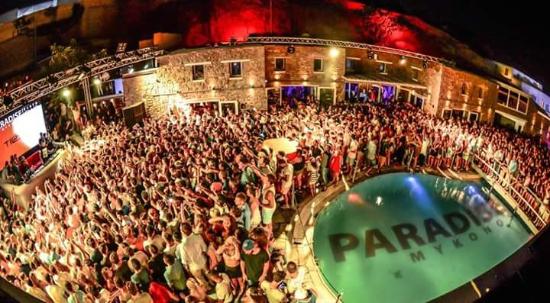 Paradise night club (Image source)
Antiparos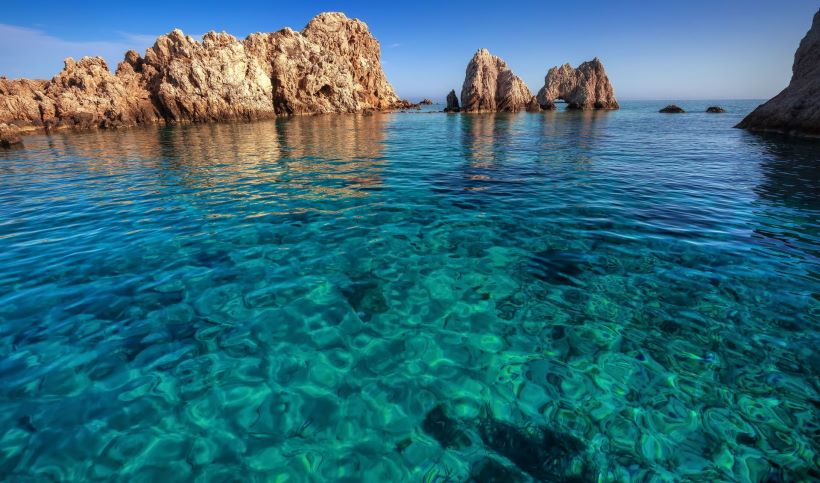 Little islet, Antiparos (Image source)
Antiparos is a small island of Cyclades, located just next to Paros island. Antiparos is a nice destination for one day excursion from Paros. Nudism and camping are particularly popular on its beaches. Chora, the capital and only village of the island, has traditional Cycladic architecture with narrow paved streets, whitewashed houses, and lovely blue-domed churches. On the southern side, there is an impressive cave with stalactites and stalagmites.
Beaches
Faneromeni
Saint George
Nudist
Soros
Sifneikos
Restaurants
Naxos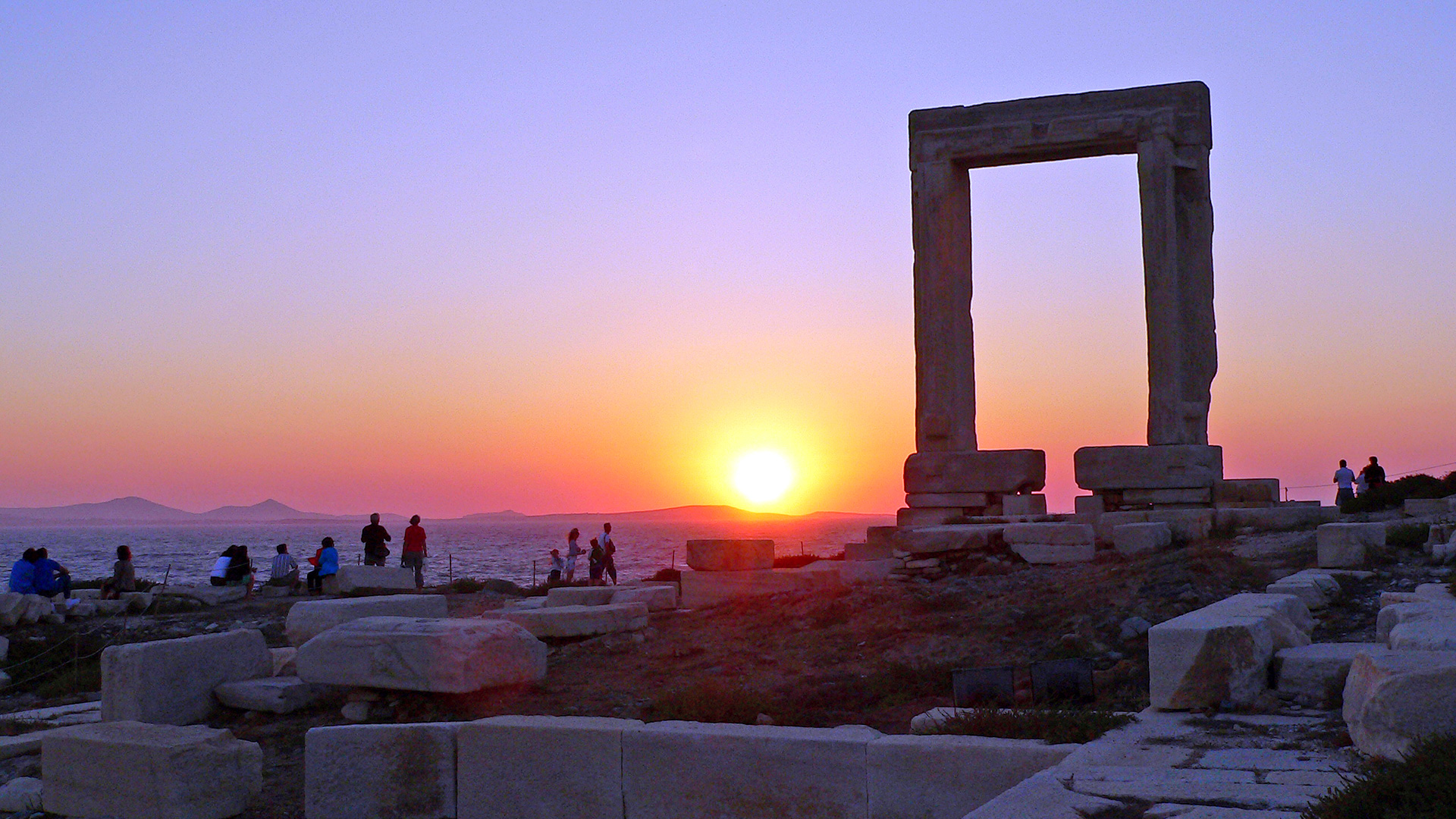 Naxos (Image source)
Naxos is all about white long beaches, romantic alleys, peaceful sunsets, and unforgettable nights.
Beaches
Plaka
Agios Prokopios
Agia Anna
Orkos
Mikri Vigla
Restaurants
Bars
Local tip: Near Hawaii beach, there is a small food truck called FBI SA, where you can find burgers, hot dogs, bao buns etc. made with traditional local ingredients. It is simply AMAZING!
Siros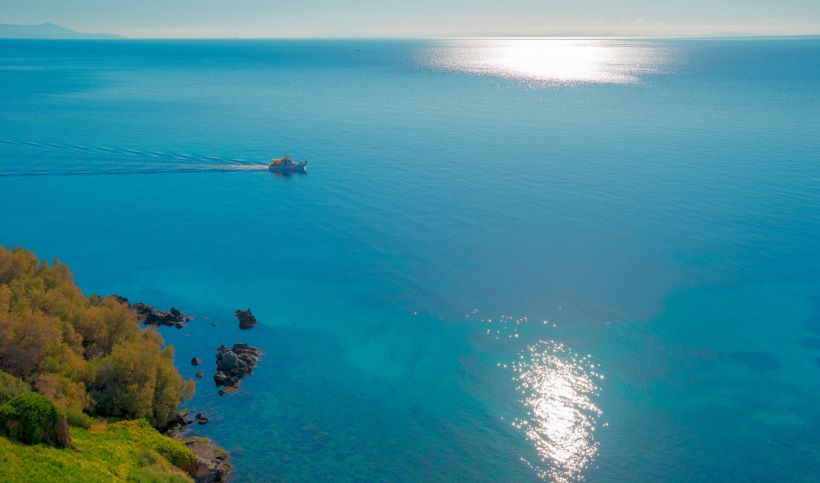 Syros (Image source)
Ermoupoli is not only the capital of Syros but also is currently the capital of Cyclades. Syros flourished after the year of 1826 when refugees from Chios, Crete, Psara and Mikra Asia joined the island. Syros has been a naval, industrial and cultural center of the modern Greece. The island is widely known for its musical tradition as it has contributed to the Greek music history with the songs of Markos Vamvakaris and the musical myth that follows him. Syros has been a hot destination for tourists throughout the years, but the last 3 years it has become the center of attention because of an athletic exhibition that is held in July (AegeanBall Festival).
Beaches
Posidonia - a well organized beach with beautiful sandy coast located 13 km south-west from Ermoupolis.
Agathopes - a small sandy beach close to Posidonia. It is a popular destination for tourist but mostly for family tranquil moments.
Asteria
Sifnos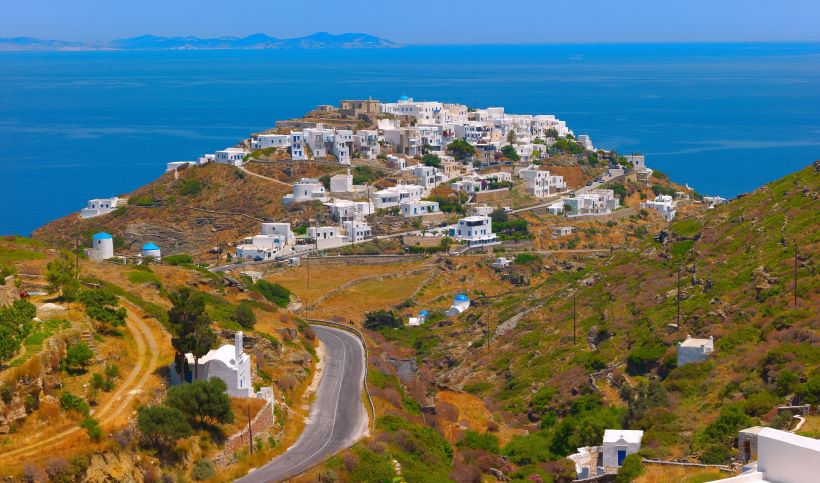 Sifnos (Image source)
If you are looking for a perfect Greek island with a balance of beautiful beaches, low-key nightlife, white Cycladic villages, low-impact tourism, and maybe the best food in the Cyclades, then look no further than Sifnos.
Beaches
Kamares
Vathy
Platy Yialos
Restaurants
Nero Alati(Platis Gialos)
Felos(Ano Petali)
Tsikali(Vathi)
Milos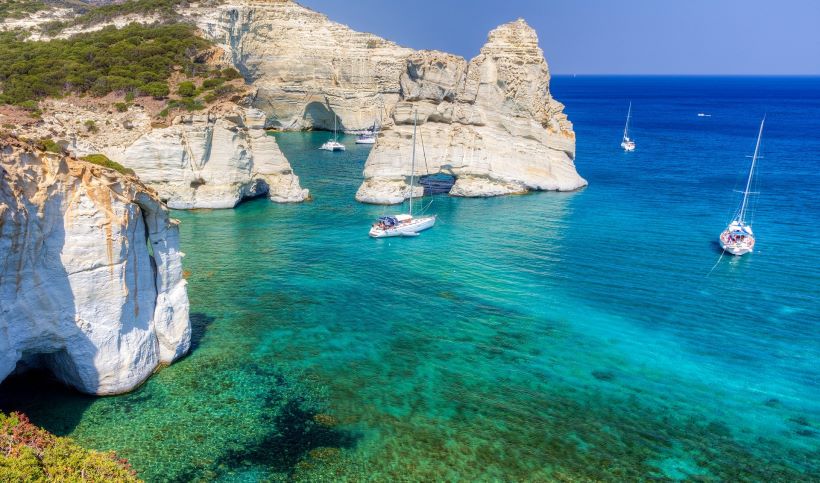 Milos (Image source)
Milos is the south-western most island in the Cyclades group. Milos is known mostly for its wonderful beaches that become the go-to holiday place for couples that want a romantic vacation.
Beaches
Kleftiko - This might not qualify exactly as a beach because there isn't one but there are a lot of boat trips around the island and almost all of them have this on their itinerary. You can swim in blue crystal waters and see the characteristic high rocks.
Sarakiniko - Your dream to see surface of the moon comes true here. The beach have white lunar-like surface which will make you believe that you are on some other planet.
Sikia - It was previously a sea cave; the roof of the cave is now collapsed. The shinning sun over the green waters make it a beautiful swimming spot.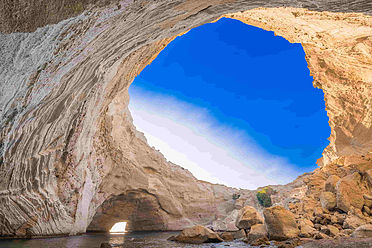 Sikia (Image source)
Andros
Andros (Image source)
Andros is the northernmost island of the Cyclades. Rich nature combined with the abundant waters and the peculiar terrain gives Andros a special Cycladic character.
Beaches
Fellos
San Petros
Golden Sand
Restaurants - Endochora - Oti Kalo - Ta Mpinelikia - Ta Skalakia
Kimolos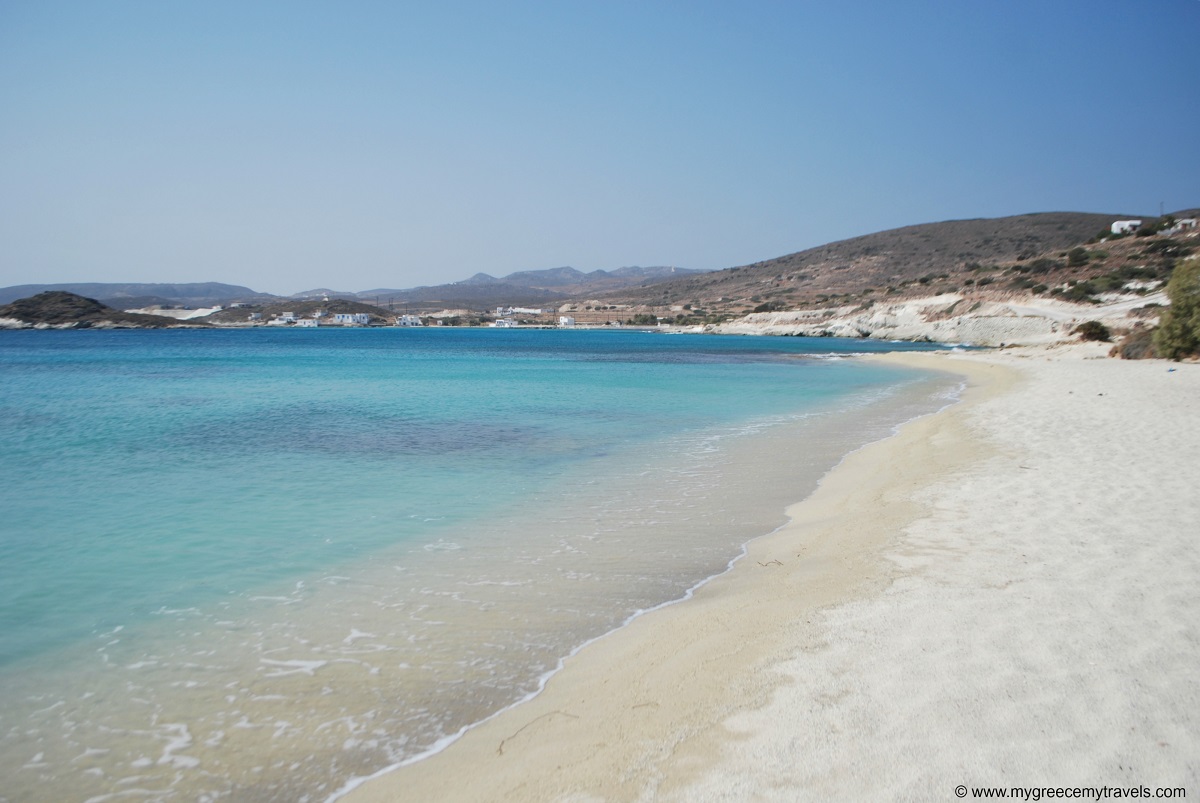 Agios Georgios beach, Kimolos (Image source)
The island is located next to Milos and considered one of the least crowded islands of the Cyclades. If you are hopping islands around the Cyclades, Kimolos is an interesting stop to consider. It is perfect for small trips for someone seeking an off-the-beaten path destination in the Greek islands.
Beaches
Agios Georgios
Aliki
Bonatsa
Restaurants - Meltemi - Postali - To Kyma
Sporades Islands
Skopelos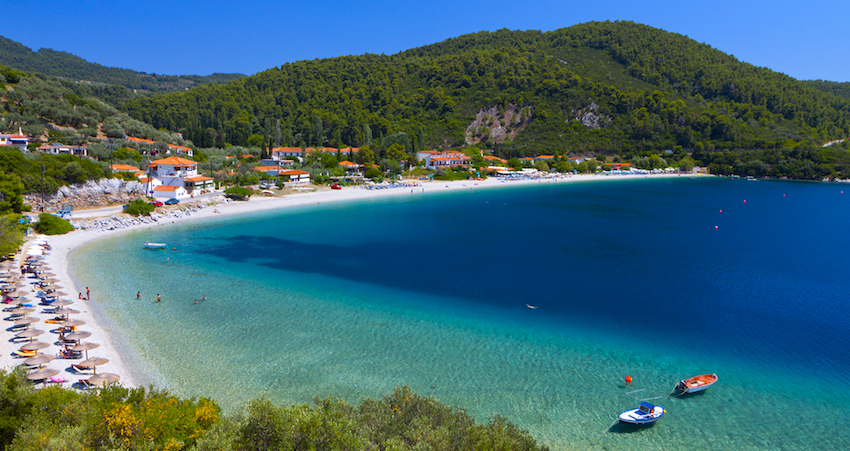 Panormos beach at Skopelos island in Greece (Image source)
If your holiday priorities are to relax and enjoy natural beauty, then make your way to Skopelos in the Sporades. You will witness layer upon layer of green shades make a stunning vista, pine trees stretching out for the seashore, hidden coves with fishing boats, and winding paths through dense forests. And.. its the island where the famous Mamma Mia movie was filmed.
Beaches
Panormos
Stafilos
Hovolo
Perivoliou
Restaurants
Things to do
Visit church of Agios Ioannis Kastri - The small church of Agios Ioannis is located in the region of Kastri northern Skopelos. This lovely church stands on top of a rock and provides an amazing view to the coasts of Skopelos and to Alonissos. This small church gained a huge reputation after the Hollywood movie Mamma Mia was released where many scenes from the wedding were actually filmed there. The impressive rock is linked to the rest of the island through a narrow path with 110 steps carved into the stone. A small beach is formed right beneath the rock and it gets pretty crowded in summer. The interior of the church has beautiful icons and old ecclesiastical items to see.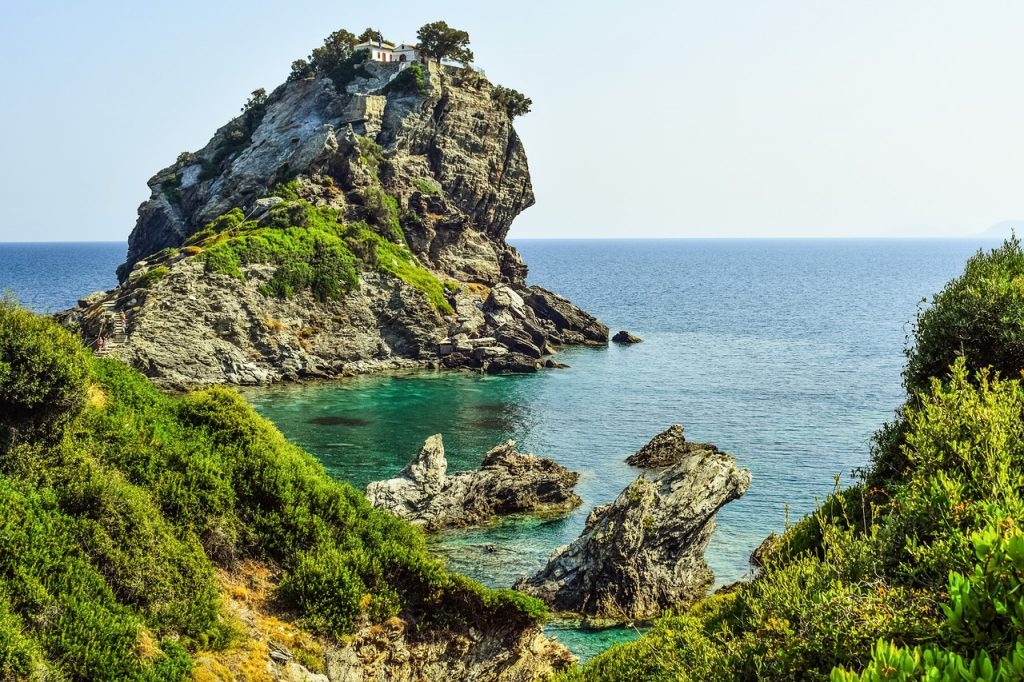 Church of Agios Ioannis (Image source)
Painting courses - Skopelos Art offers painting classes during the spring and summer months for people of all levels of experience, from absolute beginners to those who have previous experience looking to refresh or enhance their skills in a new environment.
Cultural events
Alonnisos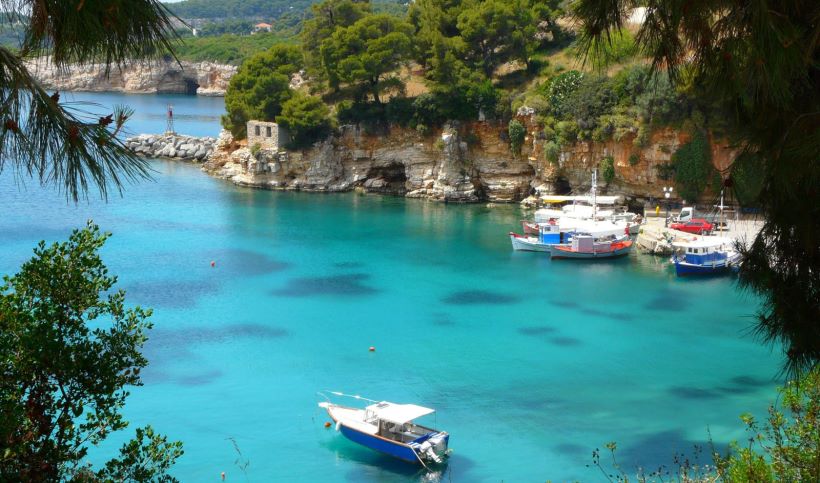 Votsi beach (Image source)
On the western side of the Aegean, on the edge of the Sporades, you'll find one of the less commercialized islands, Alonnisos. Charming and pure, its green landscape and beautiful beaches with crystal-clear water make it the perfect destination for a relaxing holiday in Greece. If you're looking for a quiet vacation, ensconced in nature, you need look no further. Unspoiled and authentic, it discreetly lets the wind share its secrets.
Beaches
Restaurants
Elaiwnas
Corali
Bistro Cafe Helios
Tip from a local - Don't forget to buy some "fouskakia" (traditional donuts), "hamalia" (triangle shaped sweets with delicious staffing sprinkled with castor sugar) and mouth watering almond delicatessen, the so-called "amigdalota" to offer to your beloved ones back home!
Skiathos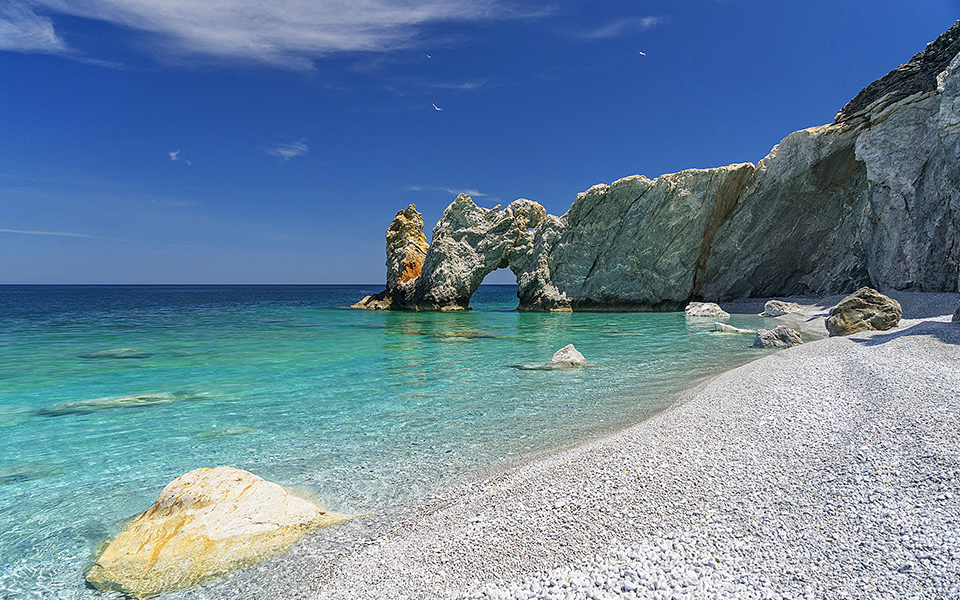 Lalaria beach
Skiathos, the most cosmopolitan island in the Northern Sporades, is truly a paradise on earth, with lush pine forests and crystal-clear waters. Despite the rapid growth in tourism here in recent decades, the island is still unspoiled and blessed with more than 60 beautiful beaches. When you add in its bustling nightlife, it is only natural that the island attracts thousands of young visitors every year!
Beaches
Koukounaries
Lalaria
Banana
Kastro
Lechouni
Restaurants
Limanaki Tavern
Marmita
Platanos
Scuna
Things to do
Dodecanese Islands
Leros

Leros (Image source)
A beautiful island of the Dodecanese, worthy of its long distance from Athens. Characterized by its natural beauty, Leros has managed to be beautiful with its own uniquely recognizable, but exceptional style.
Beaches
Alinta
Paradeisos
Kokkina
Nightlife
Halki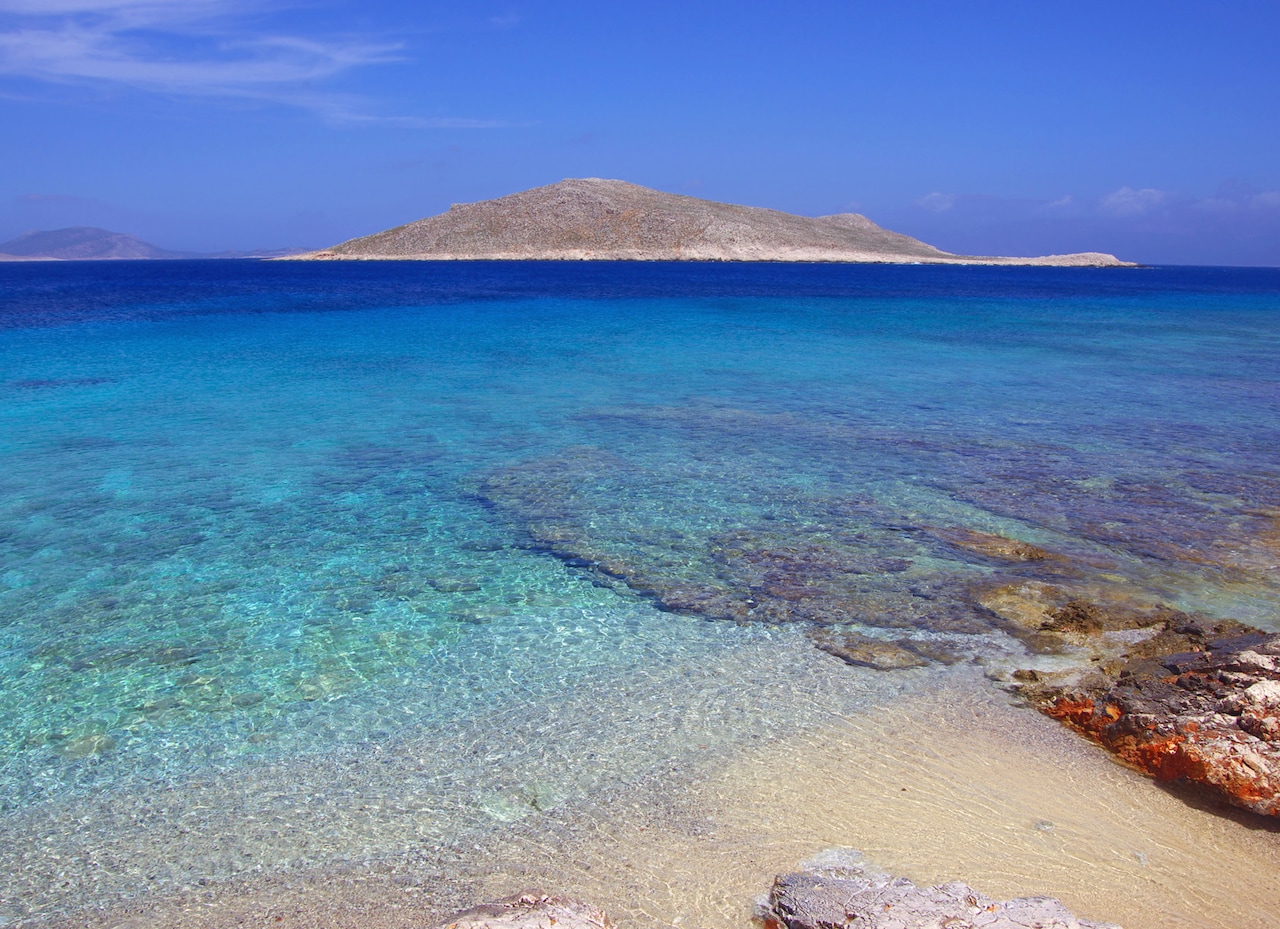 Halki (Image source)
Halki is a lesser-known Greek island that even many Greeks don't know about. It offers an amazing scenery and beauty and it is not packed with tourists. What more can you ask?
Beaches
Kania Beach
Ftenagia
Potamos
Restaurants
Magefseis
Valantis
Remezzo
Astypalaia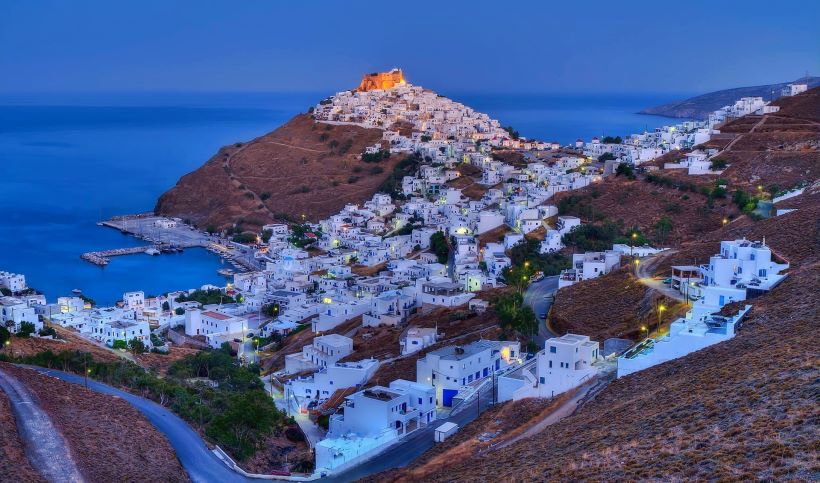 Panoramic view of Astypalaia (Image source)
Astypalaia, widely known also as "Butterfly of the Aegean" because of it's butterfly like shape, is an island of the Dodecanese which is definitely worth visiting. If you have a glance at the map of Greece you will notice that Astypalaia island is exactly between the island chains of Dodecanese and Cyclades. This unique position makes Astypalaia an extraordinary cultural mixture of those two island chains and the culture that follows them. Astypalaia is an island that both Greek and foreign tourists prefer for peaceful and family moments during which you can relax both physically and mentally.
Beaches
Kaminakia
Vatses
Pera Gialos
Mple Limanaki
Food
In the island, you can find plenty types of fish, honey, cheese, and meat. The best delicacies that you can find are Pougkia (a type of cheese pie with Kopanisti (spicy cheese) and honey), Lampriano (goat filled with rice and its liver) and many other local and greek tastes.
Rhodes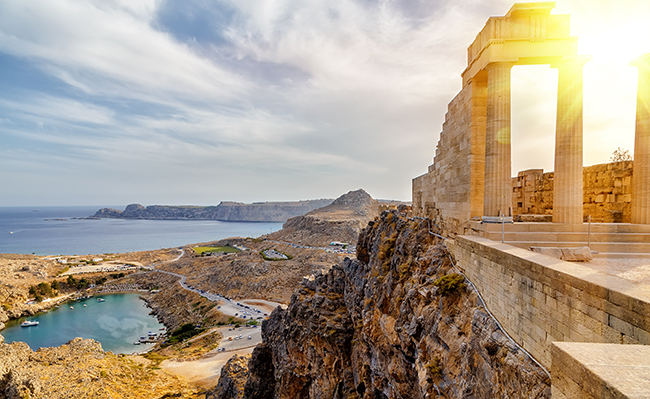 The island of the sun (image source)
Rhodes is the largest of the Dodecanese islands of Greece and is also the island-group's historical capital. The main town of the island and seat of the municipality is Rhodes. The city of Rhodes has a population of approximately 90,000 inhabitants.
It is located northeast of Crete, southeast of Athens and just off the Anatolian coast of Turkey. Rhodes' nickname is The island of the Knights, named after the Knights of Saint John of Jerusalem, who once conquered the land.
The Colossus of Rhodes was considered to be one of the Seven Wonders of the Ancient World. This giant bronze statue was documented as once standing at the harbour. It was completed in 280 BC and destroyed in an earthquake in 224 BC. No trace of the statue remains today.
Beaches
Kallithea Springs - This is the location where the classic movie "The Guns of Navarone" was filmed.
Tsambika - Very warm and shallow waters, perfect for families and kids to play.
Lindos - Located below the castle and graphic village of Lindos.
Anthony Quinn Bay - One of the most beautiful places to go snorkelling.
Food
Try Philosophia Beach Taverna in Pefkos for romantic views of the bay and a chance to dip your toes in the water.
In a similar vein is Dapapa on Kavos Beach, where the seafood is glorious with a backdrop to match.
Ambrosia Restaurant in Lindos is sheer foodie heaven.
Taverna Mimakos
Rock n' Roll
Kastellorizo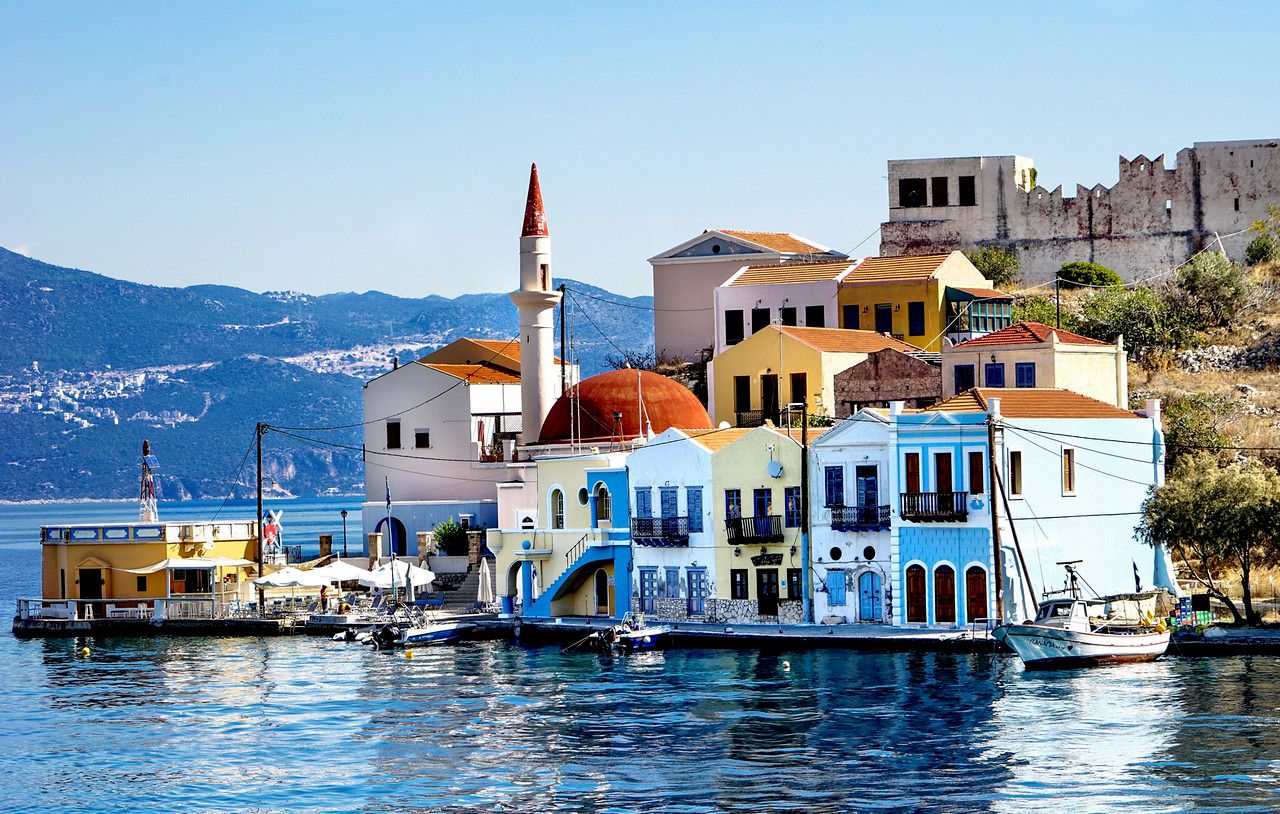 Kastellorizo (Image source)
The journey to Kastellorizo is a very lengthy one, but the scene that will welcome the daring travellers is absolutely worth it. Colourful houses all over the place, their reflections shining through the crystal-clear waters. The scenery is amazing and magical. The island was destroyed by both world wars and was rebuilt again and again. Most of its old inhabitants migrated to Australia and now only 492 people live the whole year there.
Beaches
You can dive at the amazing sea at Mandraki, Plakes or at the port. There you can find many stairs and floating docks so that you can easily get in the sea and enjoy the, undoubtedly, cold waters. In addition, while you are swimming you will not be alone, but you will get some company. Sea turtles (Oh yes) will come near you as they have gotten used to the presence of people and they will come to you to play with them.
Food
Akrothalassi: The local tavern has many traditional dishes that vary from day to day. Amazing view and really affordable choices.
Lazarakis: Lazarakis restaurant is the place where all shipowners meet and eat. Fresh fish and lobsters are the specials and, as one might suspect, the prices are pretty high.
Ta Platania: This famous and traditional tavern is located at the village's square and attracts a lot (well they are not that many but still) local people.
Things to do
Blue Cave: One of the most beautiful caves of Greece. You can reach the cave with a small boat; the opening is really small and sometimes you can't even see it. The tourists get in a very small boat and then they lie down so they can go through the opening. But then they come across one of the most magical images and sceneries they have ever encountered. Stalactites in combination with the water and the sunlight create a turquoise and green scenery that will mesmerize you and you will definitely remember it for your whole life.
North East Aegean Islands
Ikaria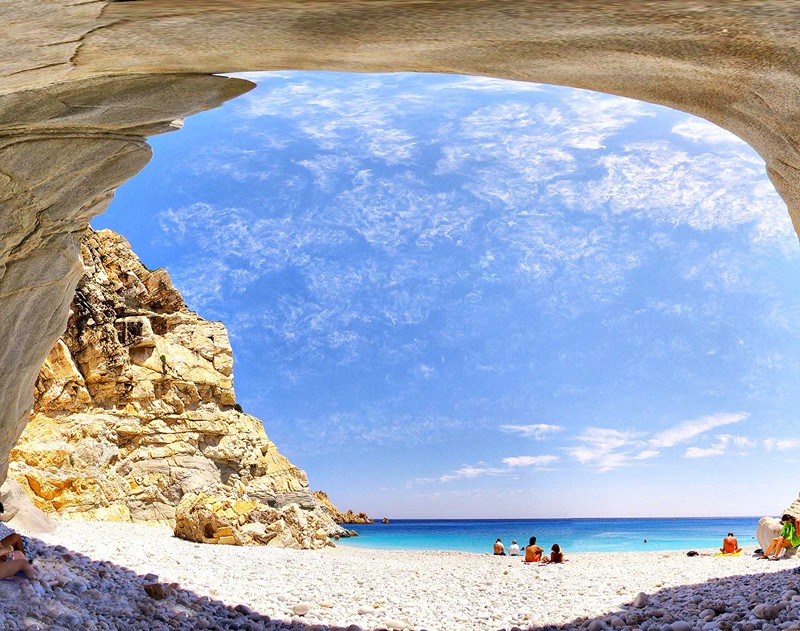 Iero beach (Image source)
Ikaria is a Greek island of North-East Aegean. Agios Kyrikos is the capital of the island and is located in the north-east coast of the island. The second most developing port is Eydilos in the north coast. The island is named after the son of Daidalos, Ikaros, whose body was found in the coast of this island.
Average lifetime of people that live in Ikaria is 88.1 years, surpassing the country's average of 79.8.
Seychelles - One of the most beautiful beaches of the island. It was created hundreds of years ago from rocks crashing during the cutting of a tunnel that was leading towards Magganiti village.
Iero - It is usually a quiet beach that not many people know.
Mesakti - The most famous beach of the island which you must visit if you pass by the island. The view to the iconic little church of Analipseos in the port is what makes the beach a must-visit.
Sightseeing
Xristos Rachwn : An informal rule says that the stores open after 9 in the night, as the locals work in the morning cropping their fields. This custom is still going on and Raches is unofficially the heart of Ikaria.
Mounte Monastery: Is a female monastery established in the 13th century with really iconic old pictures. It is located close to Xristos Rachwn in a magnificent green area with amazing view. If it happens you visit this monastery it is worth trying the handmade treats of the nun.
Koskina Castle: It is located in the center of Ikaria. This castle is also named castle of Nikarias because once is was the most important fort of the island. Having a 10 minute walk you will see the main fort that the legend says it was occupied only once.
Saronic Gulf Islands
Aegina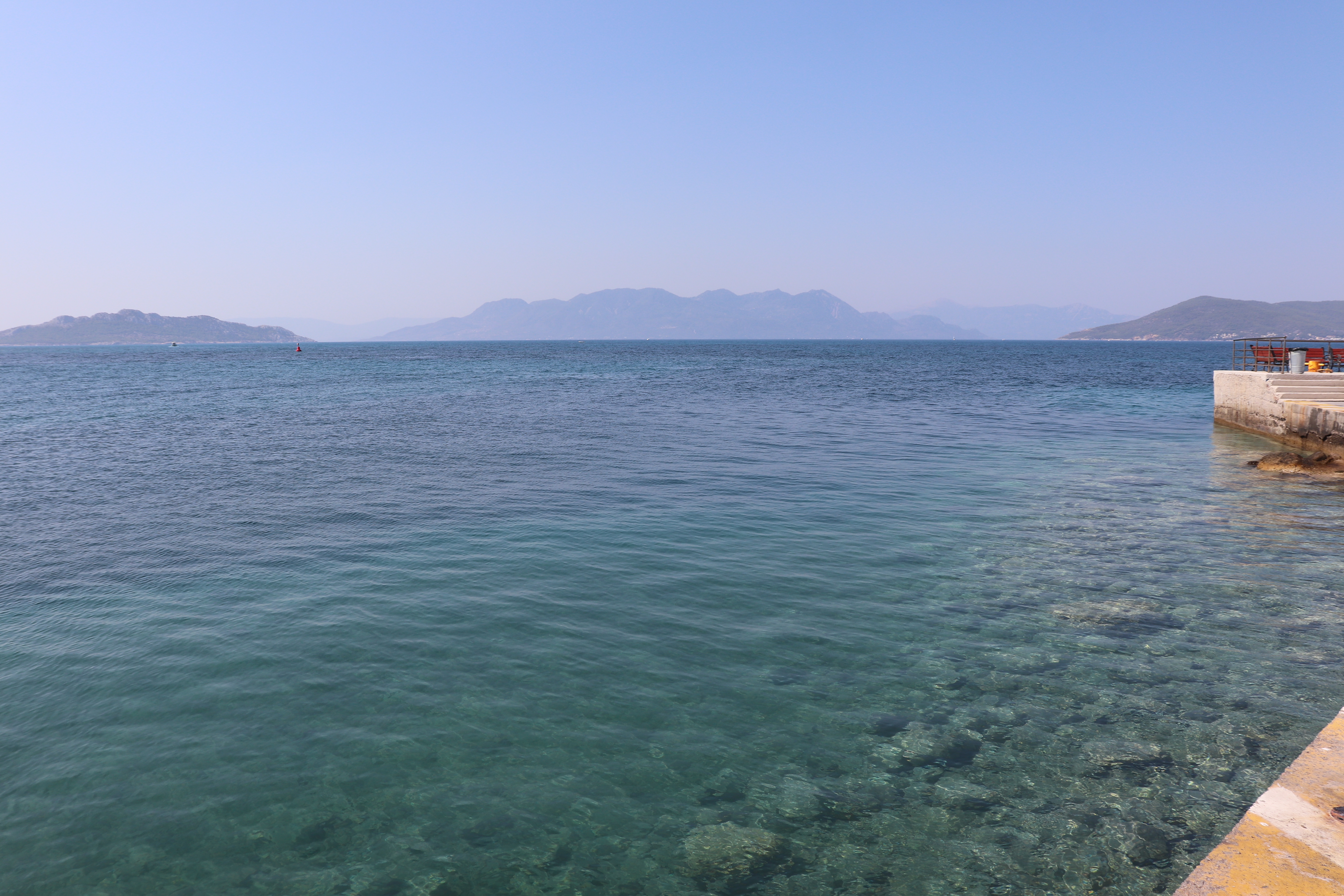 All the islands of the Saronic gulf - Aegina, Salamis, Poros - are very close destinations for just a day-trip as the port of Piraeus, Athen's port, lies on the northeastern edge of the gulf. In combination with the beauty that Aegina offers, if you just came in Athens for a couple of days, don't hesitate to go to Piraeus, buy a ferry-boat ticket and travel to Aegina.
Spetses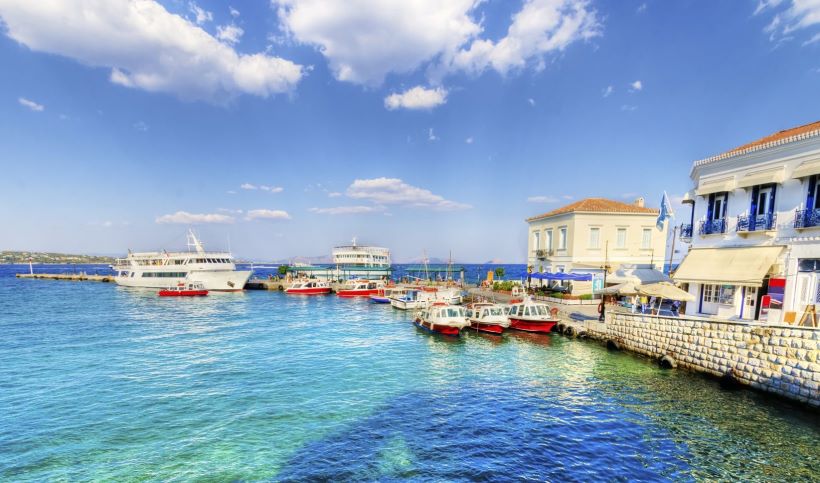 Dapia, Spetses (Image sourcehttps://www.discovergreece.com/en/greek-islands/spetses)
In ancient times, it was known as Pityoussa, and later as Petses. Spetses is an ideal destination for a quick retreat, while it has the ability to make you feel special and exclusive. Once you travel to Spetses you will experience horse-drawn carriages, people riding their bicycles as motorcycles are forbidden by the local authorities. The island of Spetses has forever been a favourite destination for high-society, as reflected in the smart cafes, art stores and stylish boutiques that populate the Old port. Luxury and local tradition coexist on this beautiful island.
Food
La Luz
Fish Tavern Patralis
Bluefield Burger Company
On the Verandah
Hydra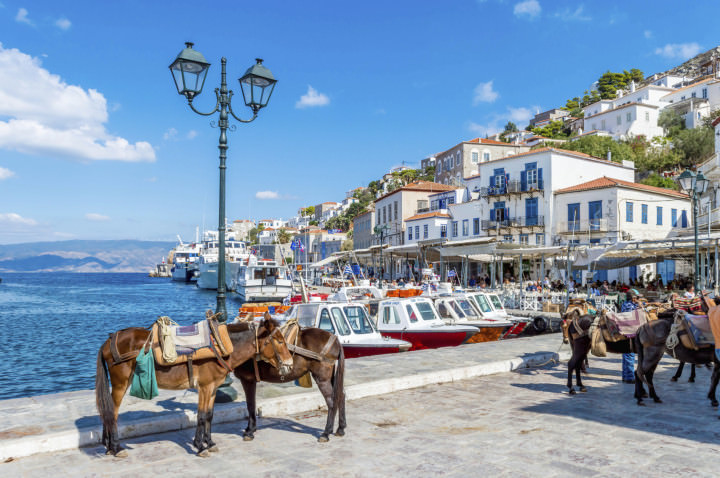 Hydra (Image source)
Hydra is a picturesque island close to Athens known for the stone mansions and the lack of cars or other motor vehicles. The transport is done on foot, by boat or riding a donkey. Strolling across the island is fully recommended if you are a fan of walking in the nature seeing the sea from above. The towns and villages close to Hydra Town that you can visit are Vlichos and Mandraki but there are also Zogkeika, Limnioza, Klimaki, Zogeri, Molos and Palamidas further away.
Beaches
Vlichos
Kaminia
Hydroneta
Restaurants
Omilos
Bratsera
Kai Kremmidi
Agistri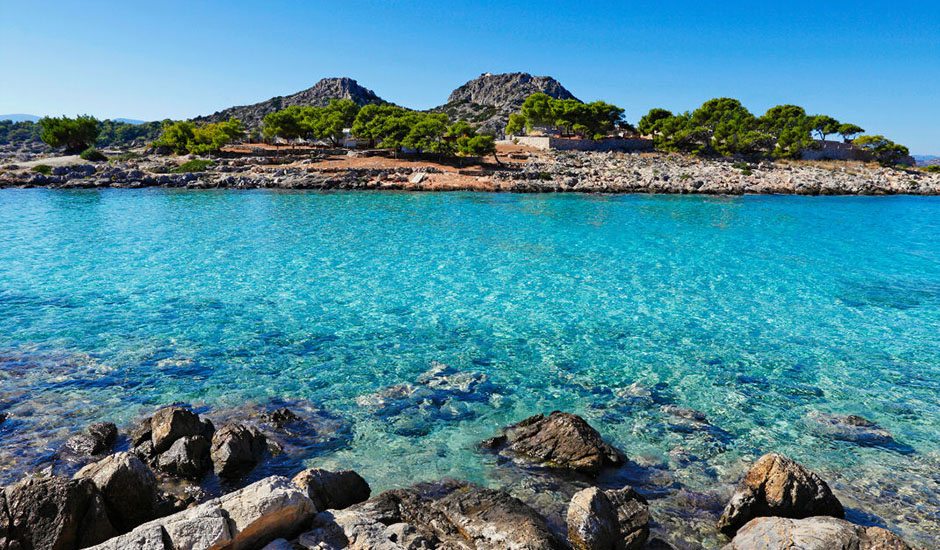 Agistry (Image source)
Agistri is the diamond of the Argosaronic Gulf full of pine trees and crystal clean waters. It is about one hour away from Piraeus Port.
Beaches
Megalochori
Skala
Dragonera
Restaurants
So, what you are waiting for? Choose a destination and pack your bags. Nature is waiting.