A Memorable Trip to Santorini

In April, my family shifted with me in Athens from Bangalore. Shifting from home country to another country is not easy and in pursuit to convince them I used "tourism" as an effective weapon. Now, after the initial settling down period, it's time for me to plan a trip for my family.
I heard enough about the beauty of Greek islands and being in Greece, it was obvious for us to plan for one of the Greek islands. However, it was not an easy decision to choose one of the islands for the trip. There are a few thousand islands in Greece (the exact number depends on the minimum size threshold) grouped into named clusters (such as Cyclades, Ionian, and North Aegean). Based on the popularity and the opinion of friends, we finally decided to visit Santorini this summer.
Logistics
For our 3 days stay, we explored a few options and booked Earino suits and villas in Akrotiri (one of the villages on the island).
There are two options to reach Santorini from Athens - by plane and by ferry. Obviously, planes are faster; ferries are slower but are more scenic. We chose ferry over the plane. Now, there are mainly two types of ferries - open deck ferries and highspeed ferries. Blue star ferries operate open deck ferries which are large ships having the capacity to carry more than 2000 people and 400 vehicles. These ferries take approximately 8 hours to reach to Santorini from Athens. On the other hand, highspeed ferries (by Hellenic Seaways) can carry more than 950 people and approximately 250 vehicles. The highspeeds reach to Athens from Santorini in approximately 5 hours. We wanted to experience both the ferries so we booked the onward journey in an open deck ferry and return journey in a highspeed ferry.
One important thing to note: it is necessary to have tickets before the journey; the online booking confirmation is not enough. We collected our tickets from a Viva outlet in The Athens Mall (Neratziotissa).
Onward journey
Well... we were really excited; after all, this was our first journey in a large ship. We woke up very early (something like 5 AM) and left our home around 5:30 AM. We used public transport and reached at Piraeus around 6:30 AM to catch our 7:30 AM ferry.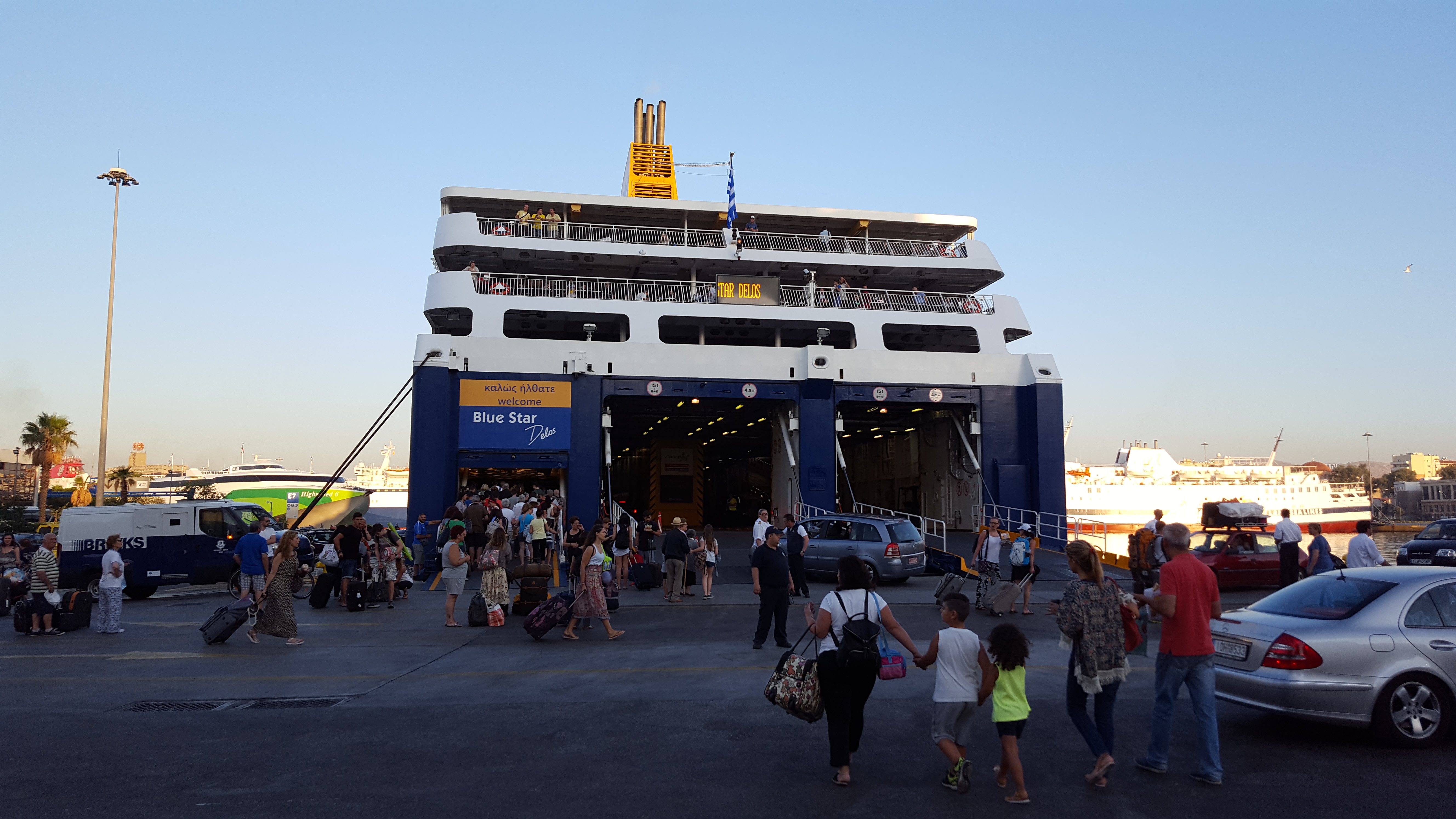 Entrance of the blue star ferry
The ship was really big (the biggest I have seen so far). When we reached gate E7 of the port, the entrance of the ship was open and people were queued to get in. We followed the queue and in a few minutes, we were inside the ferry.
The ferry offers different types of seating - economy (unreserved), reserved (airplane-like seats), cabin, and business class. I would recommend reserved seats unless you are planning to be always on the deck and ready to stand or even sit on the ground (it was really crowded till we reached Paros).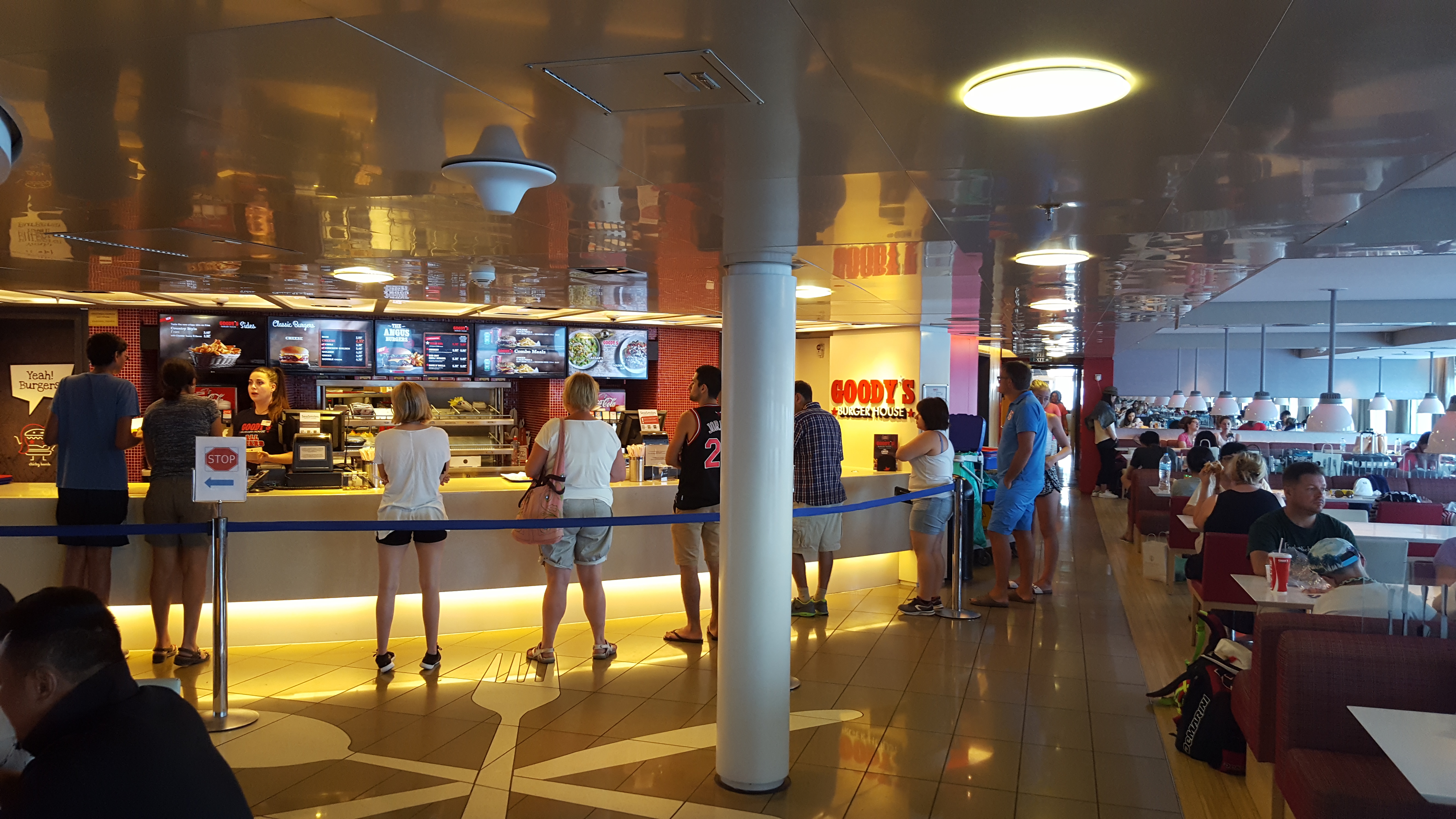 Restaurant in the ferry
We opted for reserved seats which were quite comfortable with large leg-room. We were lucky to get our seats near the glass window. Once the ferry started, I took a detailed round of the ferry. It has a few ATMs, restaurants on both the sides on each level, and a shop (if one is interested in travel accessories, toys, books, or jewelry). One may go out on deck at level 7 and 8 to witness the spectacular deep blue sea, click photographs, relax (if lucky enough to find a chair) and enjoy his favorite drink.
Our ferry had two stops before reaching to Thira (or Santorini) - Paros and Naxos. Almost half of the people got down at these islands. This is probably the perfect time for anybody traveling to Santorini to go out on the deck if he/she couldn't find a place earlier.
A traveler might be carrying a bag that he/she don't want to leave behind when he/she goes out on the deck. Although, nothing will happen to the bag if one goes out for a few minutes and comes back; however, announcements such as "...don't leave your bag unattended due to security reasons..." may make the traveler uncomfortable. One solution to this problem is that the traveler may check-in his/her bag to the luggage room while entering in the ferry.
Well.. after more than seven and half hours journey, we reached Santorini (more formally called Fira or Thira). It's a rather small port just below a cliff. The weather was a bit hot (32 degrees celsius). We took our taxi which was waiting for us and headed to our hotel. We were amazed by the view offered en route.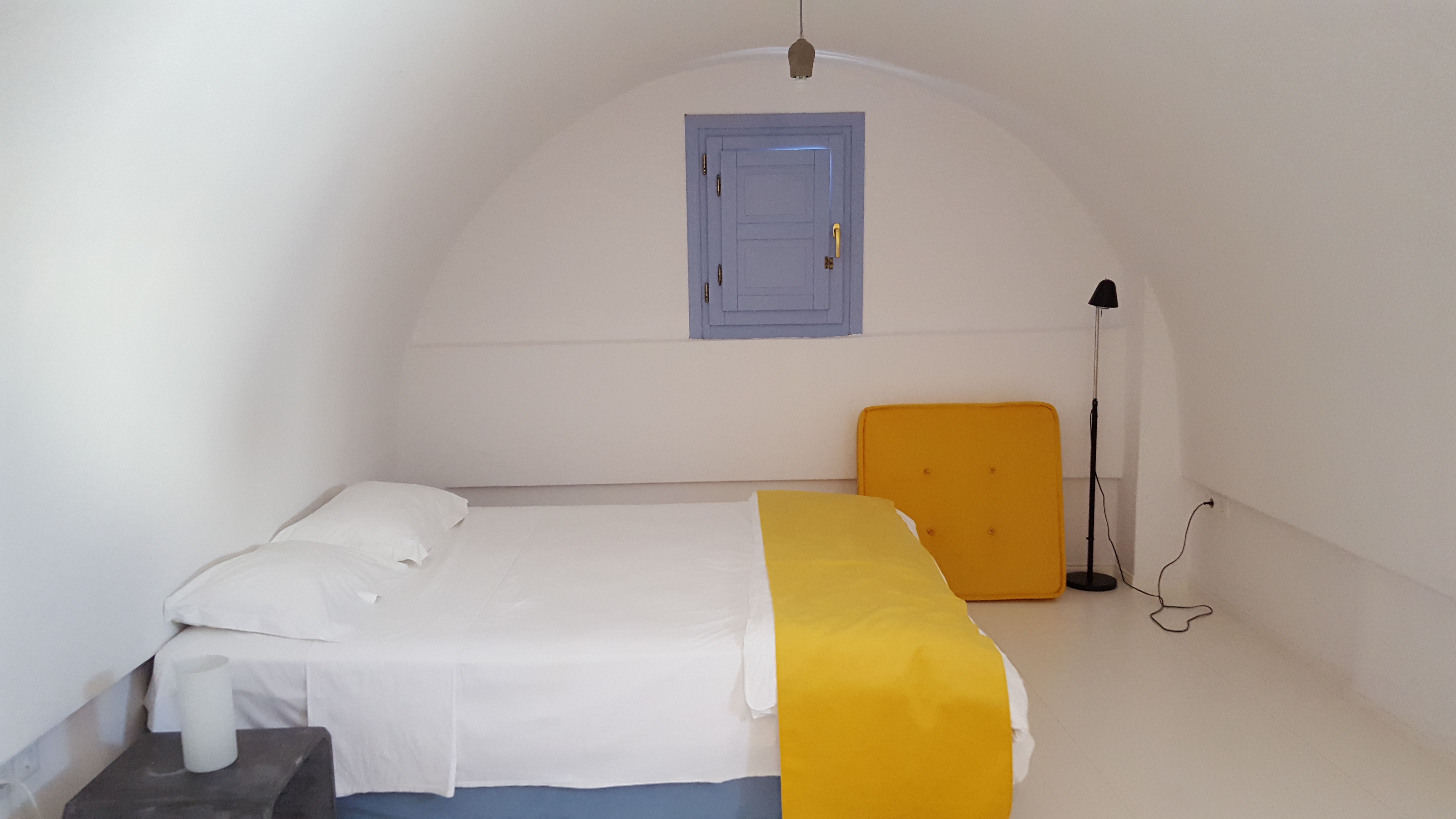 Bedroom of our hotel room
We checked-in to our hotel, gathered some useful information, and relaxed a bit. The suites in this hotel are built in a traditional way where the top of a suite forms a semi-circle. The ground floor has a living room and kitchen and the first floor mainly has a bedroom. Nice :)
Awesome sunset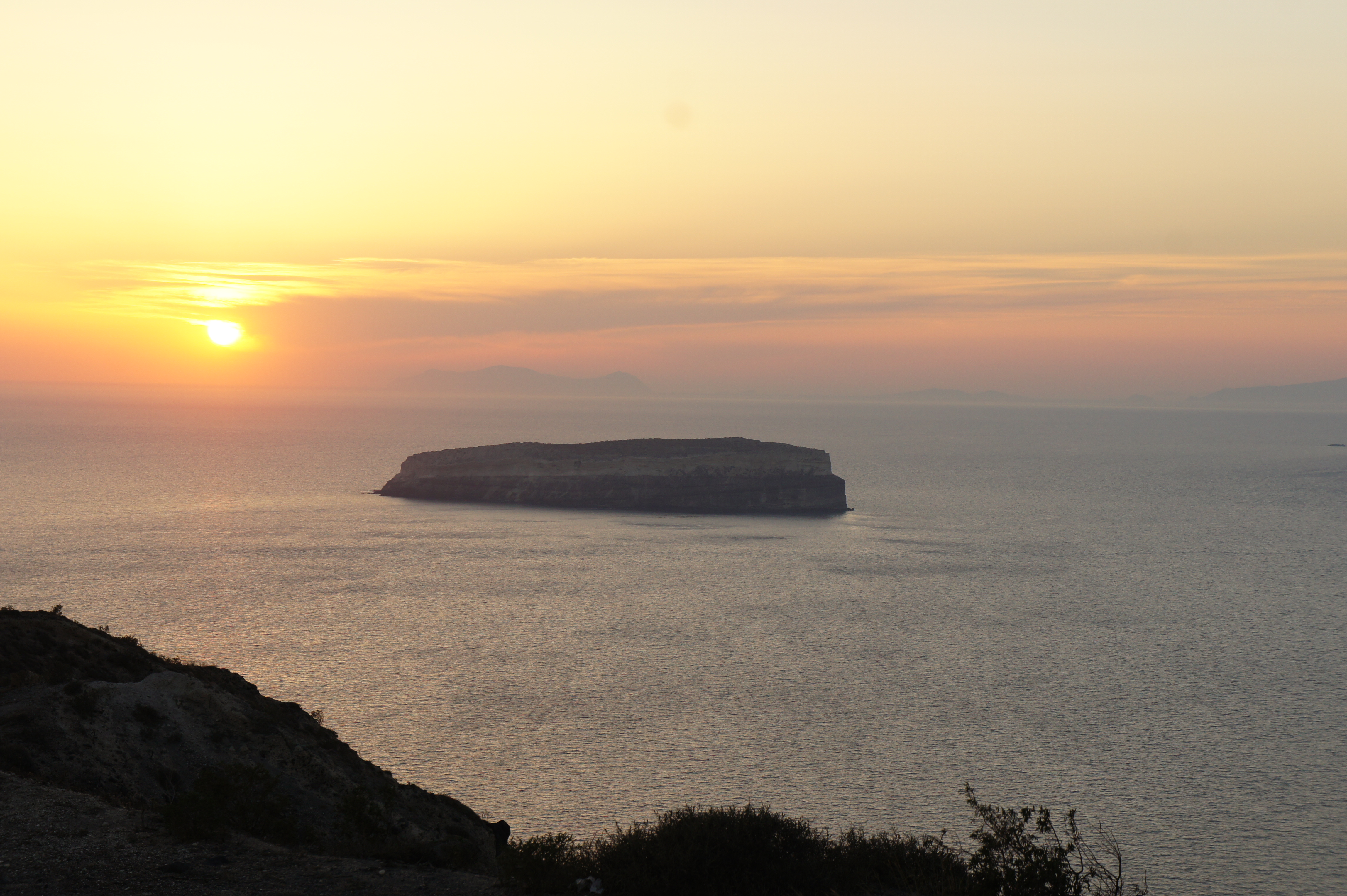 Sunset in Akrotiri
The awesome combination of the sea and the sun makes Santorini such an amazing place. Oia, a village on this island, is particularly famous for its sunset view. Another very nice location for sunsets is Akrotiri. We found an excellent sunset point near our hotel in Akrotiri and witnessed one of the most beautiful sunsets of our lives.
We spent one evening in Oia - a beautiful but crowded place. The village has many small streets and it is worth to explore the streets randomly; it will keep your shutterbug-self busy. Many times, we just followed the crowd and we landed at really nice spots.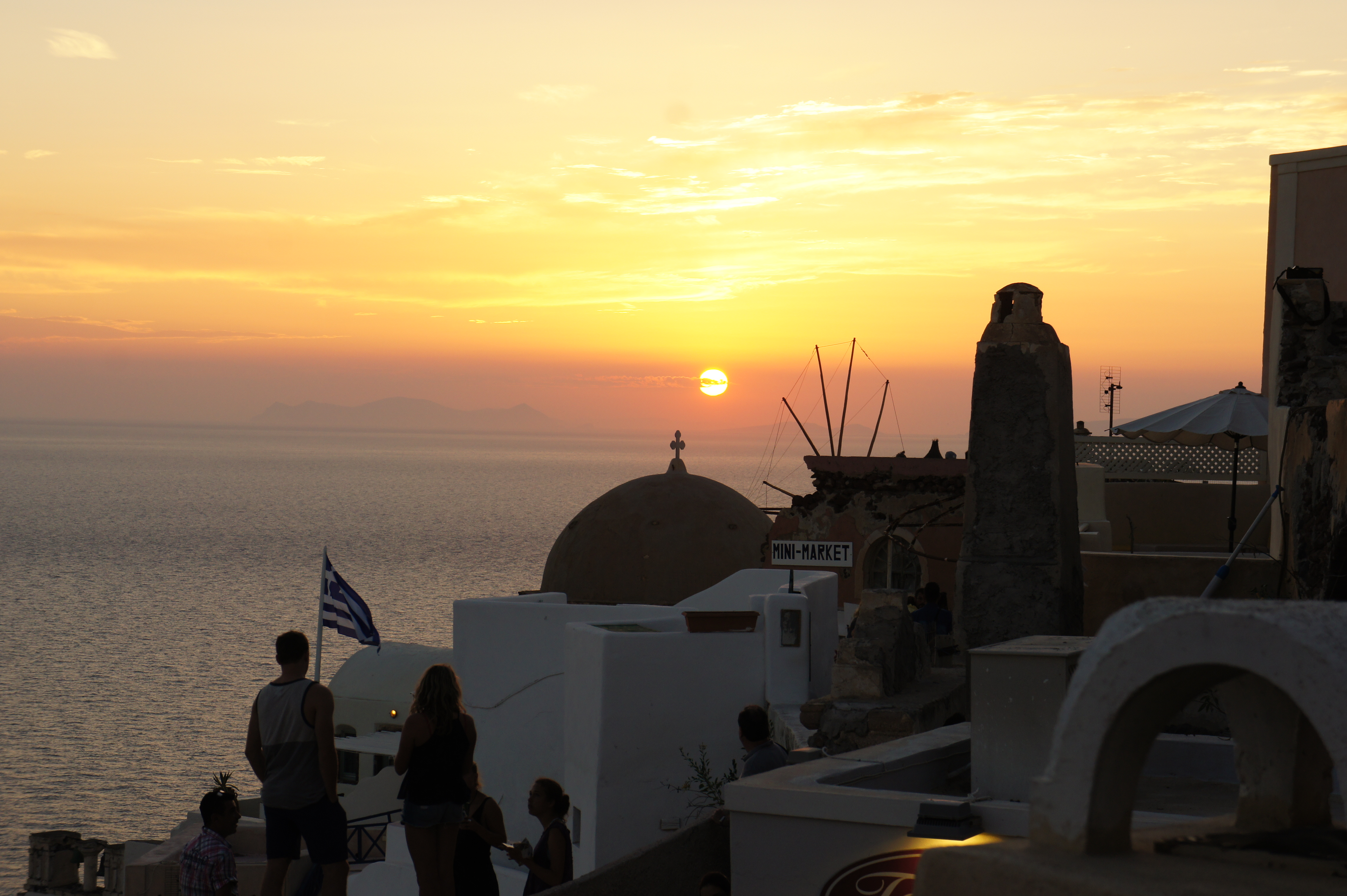 Sunset in Oia
To capture the famous sunset in Oia, we acquired a good spot on a very crowded sunset point (which is basically a staircase). There were many people waiting for the sunset like us. As the sun started to descent to the horizon, the sound of camera clicks became prominent. The colors of the evening were vibrant. It was really great to see the beautiful and scenic sunset.
Intra-city Transport
It is highly recommended to hire a car (or ATV(All Terrain Vehicle) - a quad-wheel bike, or scooter) to roam within the island. These options are easily available at a reasonable cost. Officially, the rental agencies require that the driver has a European or international driving license; however, for me, after a little while, they were ready to give a car based on my Indian driving license. I guess the person at the rental agency was desperate and ready to take some risk.
We did not opt for a car because I am used to left-hand drive and never driven in countries where the drive is right-handed. Also, an island implies small roads and very frequent hairpin bends. I was not comfortable driving a car in such a situation.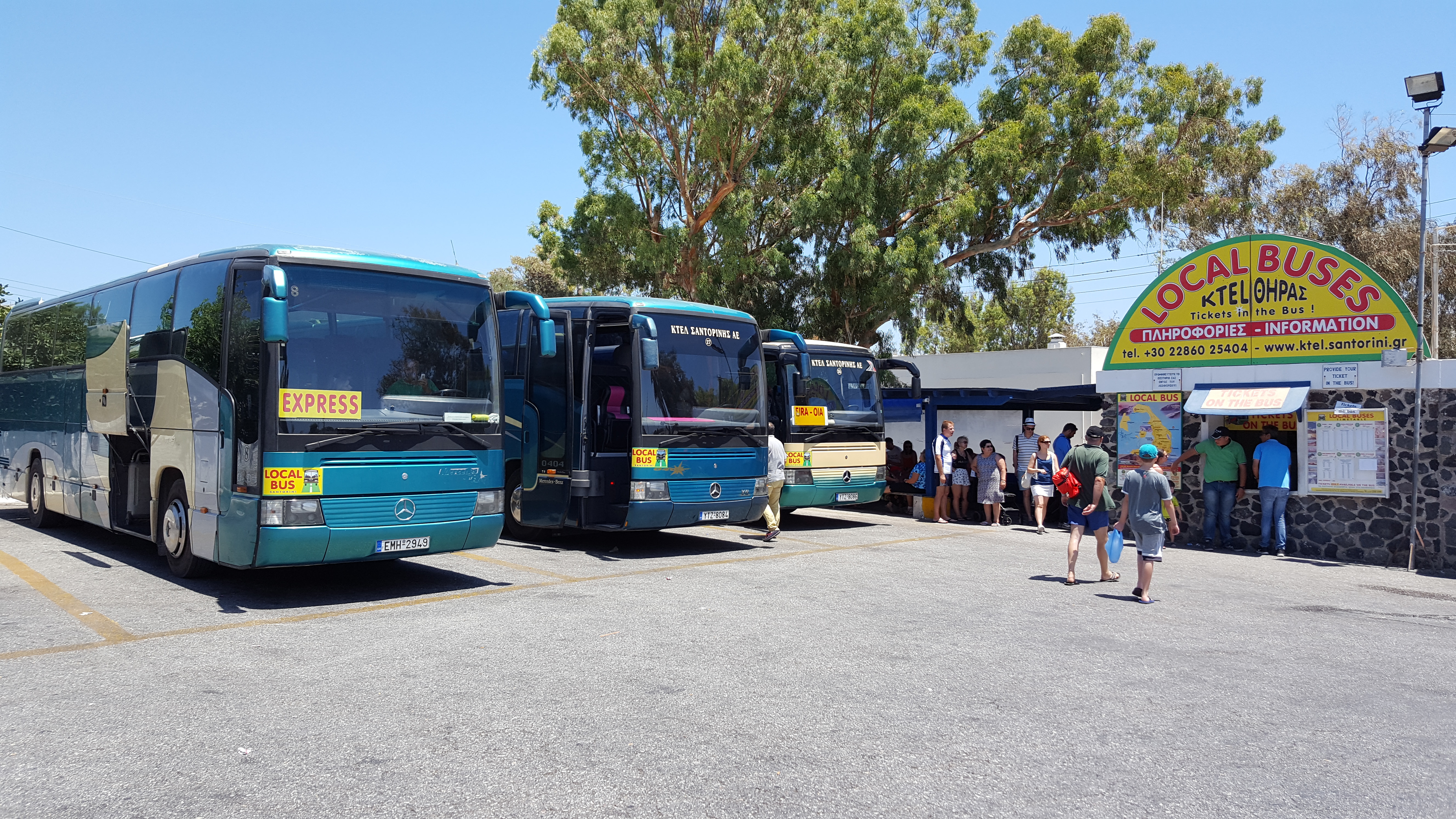 Fira bus stand
Here comes the public transport. The island has a public transport system; the system is analogous to the client-server architecture in computing systems. Fira is the central bus stand which serves to buses to the rest of the island. If one wish to visit Oia from Akrotiri, first he has to come to the bus stand of Fira and then change the bus from there to Oia. The buses have a timetable but we have not seen them following the schedule strictly. The buses are very well maintained and cost-effective. One way ticket costs 1.80 to 2.40 Euro depending on the destination. The traveler has to buy tickets on the bus itself.
Buses don't operate in the late hours (in some areas, the last bus is at 8 PM). So, if you are late to catch a bus or you prefer transport till the doorstep of your hotel, you may opt for a taxi. However, taxis are not easily available. You need to go to the taxi stand behind the Fira bus stand to get a taxi.
Beaches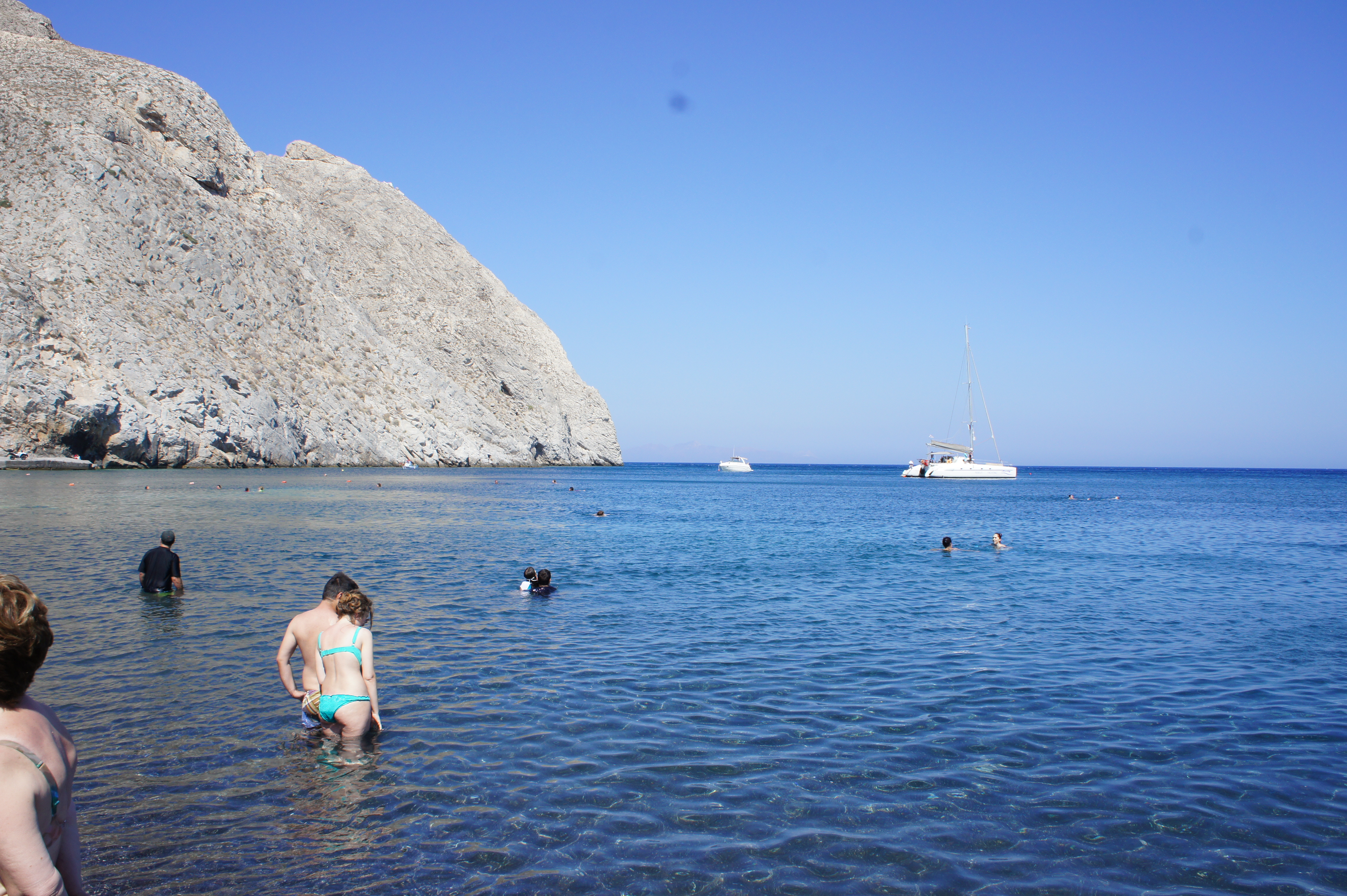 Perissa beach
Santorini has a few good beaches such as Perissa, Perivolos, and Red beach. We visited Perissa beach and spent a few hours. Most of the beaches in Santorini are black beaches due to the volcano. Perissa was nice and clean but completely commercial.
Fira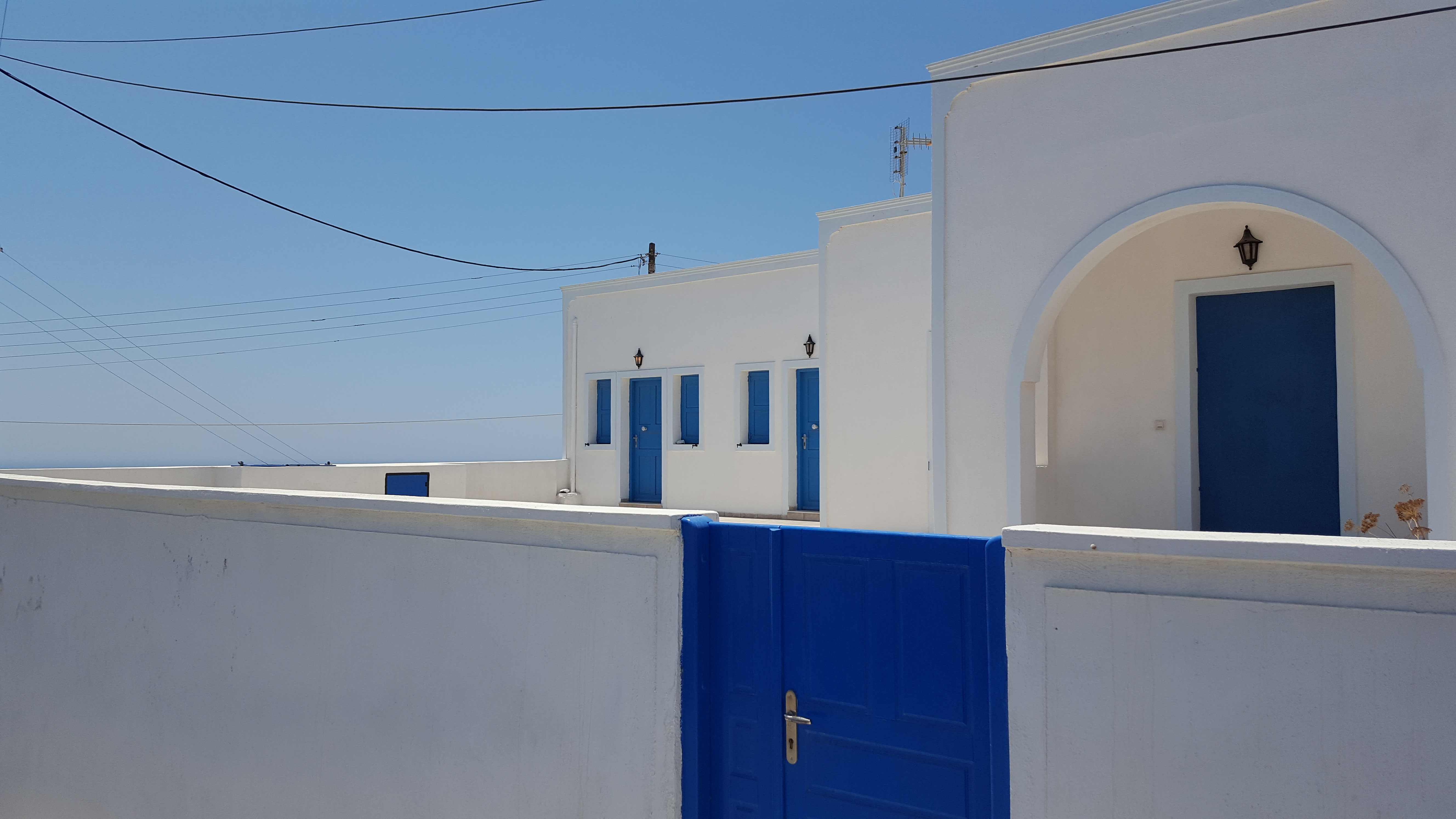 White and blue homes
This small village is the center of the island. It can be described by just two colors - white and blue. It's a very beautiful combination where doors and windows are painted blue and rest of the house in white. Churches with blue domes are peculiar to Santorini; they are simply beautiful.
We explored the streets, mostly randomly. The small streets are packed with many small shops. The local shops sell souvenirs, local wines, and other local products such as olive paste and sun-dried cherry tomatoes. Although, the universal tourism rules (such as over-priced stuff) applies here also.
Food
The traditional greek food served by the restaurants in Santorini was great. We were happy that the restaurants serve a wide variety of vegetarian food.
Our hotel served nice breakfasts in our room. Freshly baked spinach pies were really nice.
The return journey
Okay, it's time to go back. The return tickets were booked in a highspeed ferry by Hellenic Seaways. The experience was quite different from the onward journey. On one hand this journey was shorter; but on the other hand, the ride was bumpy and unstable. After experiencing both the ferries, I would prefer to go in a slow and stable ferry to avoid sea-sickness.
We arrived at the Piraeus port in about five hours and by another hour, we were at our home.
In summary, it was a memorable trip. We enjoyed ourselves and spent quality family time together. If you like the sea and the sun and if the crowd doesn't bother you, it is the place to go.