Moving from India to the USA? Some tips to make your transition easier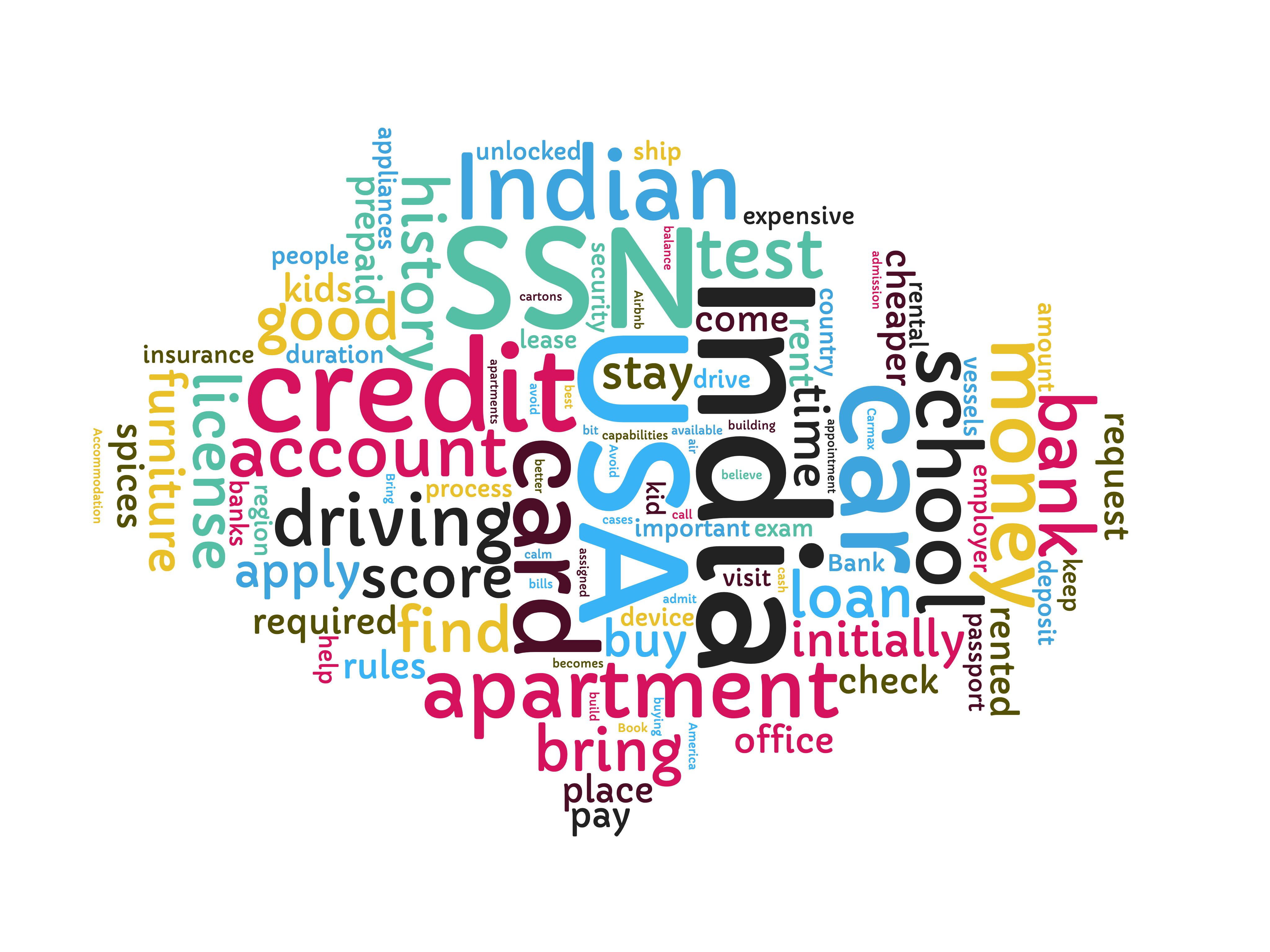 It's a long due post. I moved to the USA more than a year ago; first six months, I waited to understand things but later on, I just kept postponing writing this article. Anyway, here we go. If you are moving from India (or for that matter, anywhere else) to the US, some suggestions derived from my experience may help you to be better prepared.
Things to bring (and not to bring) from India
Spices: Indians are considered crazy about their love of spices. Hence, the first hunch of an Indian could be to get all kinds of spices and even rice. If you are thinking along these lines, then you need to calm down. You will find all kinds of spices in Indian stores in the USA. These stores are present almost everywhere in the country so just search for the nearest store where you are going and that's it.
Kitchen vessels: You may carry some vessels (plates, cutlery, etc.) to get started. Depending upon how much weight you may carry you may strike a balance. The important thing is to get a pressure cooker and optionally a rice/idly maker. You can find them here also but it will cost more than the typical Indian stuff.
Electronic appliances: Honestly, it's a mistake to bring anything electronic, apart from your laptop and mobile phone, to the USA. Not only the plug but also the required voltage is different for both the countries and that makes many things (such as iron) useless in the USA. Don't forget to get a couple of adapters for your Indian appliances.
Money: Obviously, you need money here; more importantly in USD. You may get a prepaid card from major banks in India. Put the majority of the money that you would like to bring in the card and some money (maybe a thousand) in cash just for emergencies. You will need the prepaid card till the time you open a bank account in the USA and you get a debit card; so, plan for that duration.
Medicines: Bring some medicines that you typically take for common issues (such as flu and cold).
If your employer is allowing you to ship your stuff then partition your things into three parts. First, the things that you need immediately that you will take with you. Second, the things that will come via air (maybe around 4-5 cartons of 15-20 kgs each) and the remaining things that will come via ship.
Accommodation
Book a temporary place (something like Airbnb) for a couple of weeks initially to stay if your company (if you are coming on employment) is not providing one. You need to find a place (usually an apartment) during this temporary stay.
Now, the question is where you should get your rented apartment? If you are working/studying without kids, then the choice is rather open; you may choose to stay near your workplace. However, if you have kids, then you first need to find the region/community with the best schools. In the USA, your kid can only go to the school assigned to that region. Therefore, choose a school first and then look for an apartment in that school region.
You have to sign a lease for the apartment. The duration of the lease varies from 12 months to 18 months-typically the longer you stay, the lesser the rent amount. The apartment office might ask you to pay a security deposit (1-2 months of rent).
Before you shift to your rented apartment, you will be asked to get rental insurance. Also, you need to create an account with an electricity and heating provider. They may ask you to pay a security deposit (since you won't be having any credit history). When you call these providers, be ready to spell your name appropriately (say T for Thomas, U for Umbrella, and so on rather than saying T U …).
Get started in the USA
Mobile connection: Get a prepaid connection first; you will get it easily with your passport. Once you have a rented apartment and driving license, you may convert the same into a postpaid. If you have an unlocked device (typically all devices sold in India are unlocked), then you can use the same. If you would like to get a new device, check the plans from the telecom providers and research a bit before making a decision.
Bank account: Obviously, it is an important thing and you should visit a bank nearby as early as possible after reaching the country. The major banks are Wells Fargo and the Bank of America. If your organization prefers a specific bank, open your account there. You can open the account with your passport and visa.
SSN: You will need a Social Security Number (SSN) if you are getting paid in the USA. To apply for it, you need to visit an SSN office and apply for a new SSN there. You need to check the required list of documents before visiting the SSN office. Once you apply for SSN, it typically takes 2-3 weeks for the SSN to arrive. Once you get the SSN, update the SSN in your bank account and with your employer; apart from these cases, keep your SSN at a safe place and do not share with random people or shopping stores (once, I was asked to provide my SSN to register on their loyalty program and to get discount; obviously, I declined.).
Driving license: Once you get your SSN, apply for a driving license. The rules and the process differs from state to state. In NC, you need to get a learner license first. Then you need to take a written test (taken on a computer) as well as an oral test (for traffic signs). You will get a driving manual to read the rules to prepare for the exam. After you pass the written test, you will take the driving test with a DMV personnel. Practice before taking the test even if you used to drive in India. The right-hand vs left-hand drive difference could be very significant. Also, observe other people to learn some intricacies (for example, priority rules when you are on a crossing without a signal). One issue that you may face is that you are required to bring a car for the test. If you have any friends, they may lend you (if they believe in your driving) or you can rent a car for the purpose.
Initial furniture
Typically, the apartments do not have any furniture. You may consider buying furniture from Ikea. They have a home delivery option also on flat charges. There are some places to get used furniture; they are significantly cheaper. You may try the Facebook marketplace to find what you need.
School admission
If you have kids, you will need to admit them to the nearby school. Make an appointment with the school and take your child to school. After completing formalities, you may have to go to an exam center where the teachers assess the kid's learning capabilities. After this on-boarding process, the kid can start going to school.
Get a car
You are handicapped without a car in the USA. initially, you won't have a driving license and hence practically you can't buy a car. USA loan system relies on your credit history and hence if you don't have a good credit score either you won't get a loan or it would be very expensive. Initially, you can't get a loan because you don't have any credit history. If the money is not a problem for you, buy a car by paying the whole amount. You may consider places like Carmax to buy a pre-owned car.
Before you get your car, you may have to wait a couple of months at least. During this time, you may get a rental car from places like Hertz or Enterprise. These are expensive options especially when you don't have your insurance. Consider cheaper options such as Turo.
If you don't use a car much, you may survive using Uber or Lyft. For low usage, they are cheaper.
Avoid raising credit request too early
When you go to buy a car, the dealer may ask you to provide SSN to check whether you are eligible for a loan. Do not raise a credit request until you have a good credit score. If you request credit too many times in a short span, it will negatively impact your credit score.
Your credit score becomes available after six months. Till that time, you should avoid asking for credit (in the form of a credit card or loan). After you get your SSN, you may consider applying for a Discovery credit card; it might not come with a high credit line but it will help you initially with your everyday expenses. Alternatively, you can rely on your debit card. Do not ask for a credit card from your bank, they will simply deny you unless you have a good credit score (which you won't have initially). The only good option with your bank is to get a secured credit card that will give you the much-needed convenience for everyday stuff and will help you building your credit history. Needless to mention, pay all your bills on time to build a good credit history.