Crete - Where I Lost and Found Myself at the Same Time

I used to think that one has to be a really good photographer (or photoshoper) in order to produce stunning beach photos. Back of my mind, I was probably doubting the beauty of such beaches and believing that they are decently good but overhyped by the skills of photographers (or even photoshopers). Fortunately, my perception was wrong :)
After a nice, memorable trip to Santorini last year, we were looking for a perfect island for our holidays this summer (well..early summer). Greece presents a big confusion to us as there are many wonderful islands and it is not easy to settle for one. We decided to go to Crete following the recommendations of my Greek friends.
We don't want to go there in the peak season to avoid the crowd and steep prices. Also, based on our experience to Santorini, we want to avoid too hot whether and rather prefer a pleasant one (between 20 and 25 degrees). So, we decided to plan our trip in early May. There is one more critical decision that one has to make - where to stay in Crete? Crete is a big island; it is more than 350 KMs wide from east to west. So, if you stay in the east part you would probably not go towards west part and vice versa. Both the sides have many attractions to offer, so take a look at all the attractions around Chania, pronounced Hania (western side) and Heraklion, pronounced iˈraklio, (eastern side) and decide which side you would like to stay. We chose Chania.
Travel
One can opt for ferries to go to Crete from Athens Piraeus port. These ferries typically start in the night from Athens and arrive at Chania/Iraklio port by early morning. We chose to go to Chania via air.
Rental car
As I mentioned earlier, Crete is a big island (area: 8335 KM2). It is highly recommended to have a car to roam around if you are not planning to work from your hotel lobby.
I booked a car via a popular rental car company online. However, when we reached to Chania airport, the rental car company asked for an international driving license which was not surprizing but inconvenient for me. I do have an Indian license but not an international one. I did my bit of convincing her but she refused to give me a car (but, I understand). There were a few more desks of rental companies; I tried them one by one and one company agreed to provide me a car. Finally, I got a car (albeit, I paid 50% more money than the original car booking).
Hotel
We stayed at Cretan Dream Royal Hotel and it was perfect in many ways. It is 8 KMs away from Chania, so avoiding all the crowd but still approachable by car in a few minutes. Our room had an excellent view facing the sea. The property is maintained really well and the staff was courteous.
Random exploration
We checked into our hotel around 4 PM. In the evening, we explored nearby places on foot. We spotted many restaurants around our hotel and a shop selling the necessities. We also went to the nearby beach (just across the road) and witnessed a beautiful sunset. We concluded the day with a nice dinner. The restaurant served amazing "Cretan salad"; the Cretan taste of feta, tomatoes, olives, and capers made it great.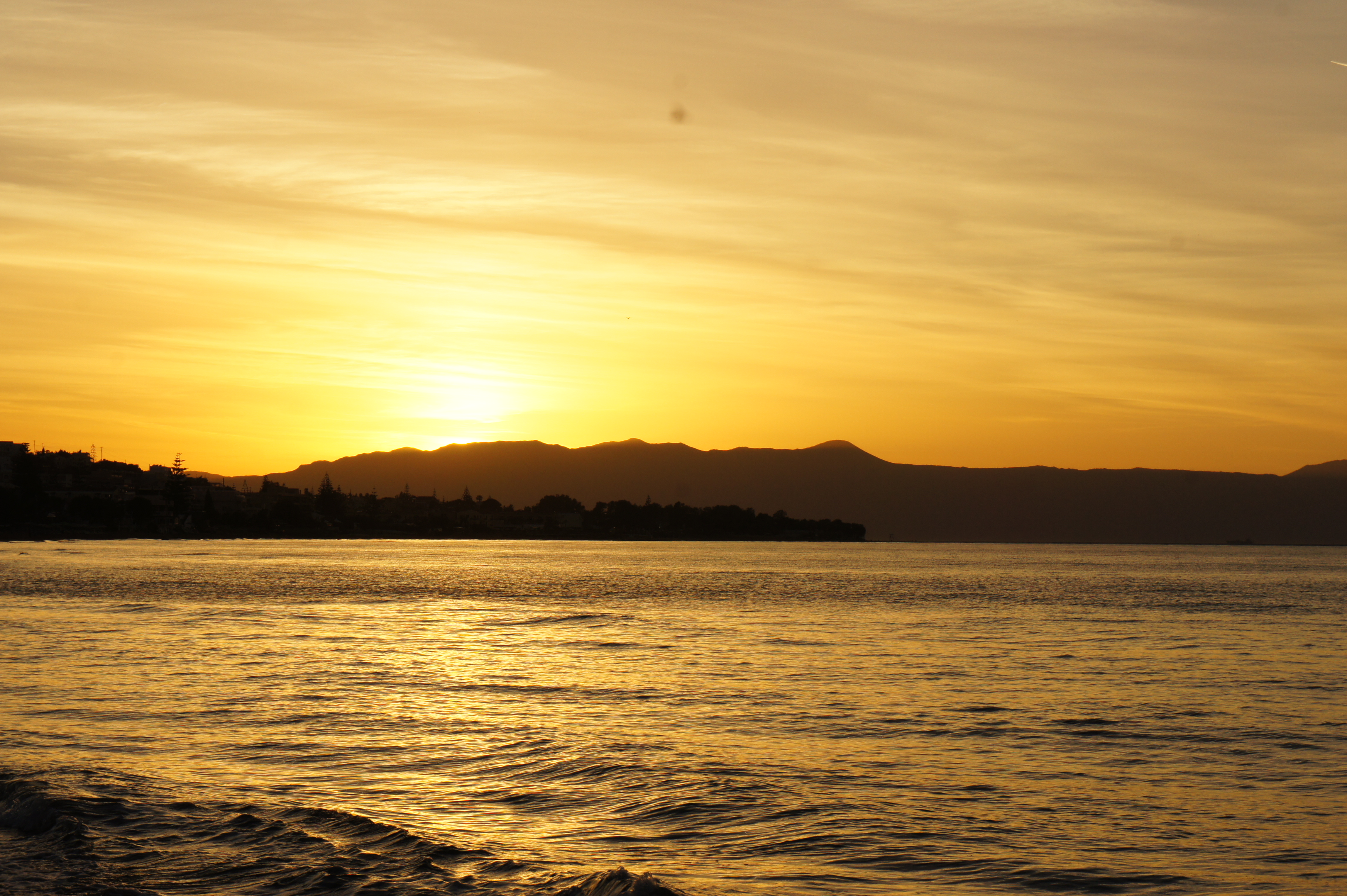 Sunset in Crete
Gramvousa and Balos beaches
Balos is one of the famous beaches of Crete. So, obviously, we wanted to go there. There are two ways to go there - by road and by boat. One may go there by road by going to Kissamos town and then further to Balos. However, the road after Kissamos is not at all good (and hence not recommended). The boat way is convenient; one may go to the Kissamos port and catch the boat. It is a good one-day trip since the boat starts at around 10:30 AM and comes back around 6 PM. More information can be found here.
We took the boat. It was almost full but not really crowded. The first stop was Gramvousa island. The island has a Venetian castle; however, frankly, it's only some remains. The advantage of going up is that you can enjoy the view and click some beautiful photographs.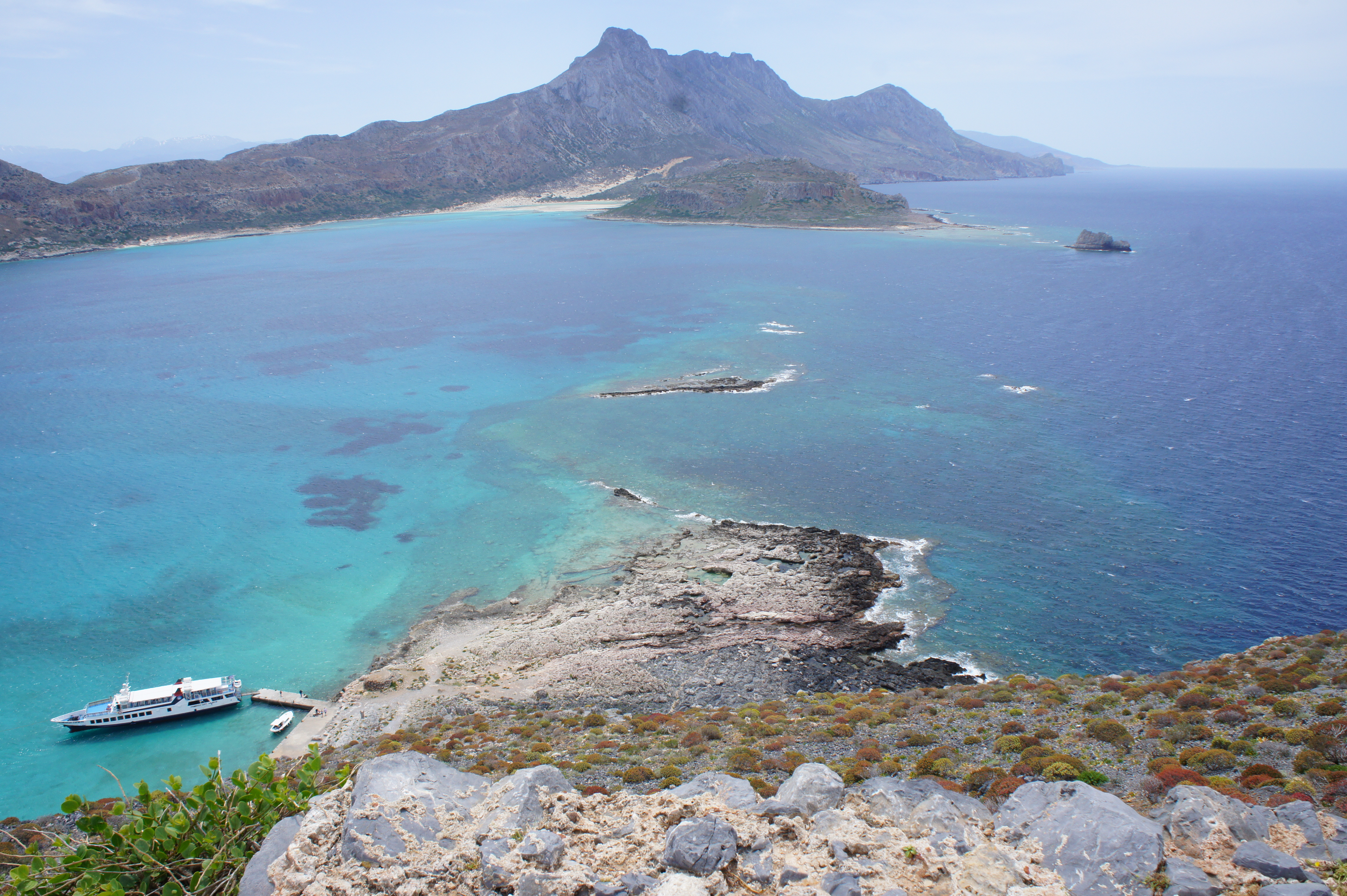 Gramvousa island
The boat takes you to Balos from Gramvousa within 10-15 minutes. Meanwhile, you may buy some food/drinks for yourself on the boat.
Balos lived beyond my expectations. It is a lagoon thus has shallow water (from a few millimeters to a few inches). My vocabulary is insufficient to describe the beauty of the beach. The blue, green, and turquoise color hues of the water are simply awesome. Since we came to the beach via boat, we missed the opportunity to click some photos from some altitude. However, I climbed some distance to take an amazing panoramic view of the lagoon.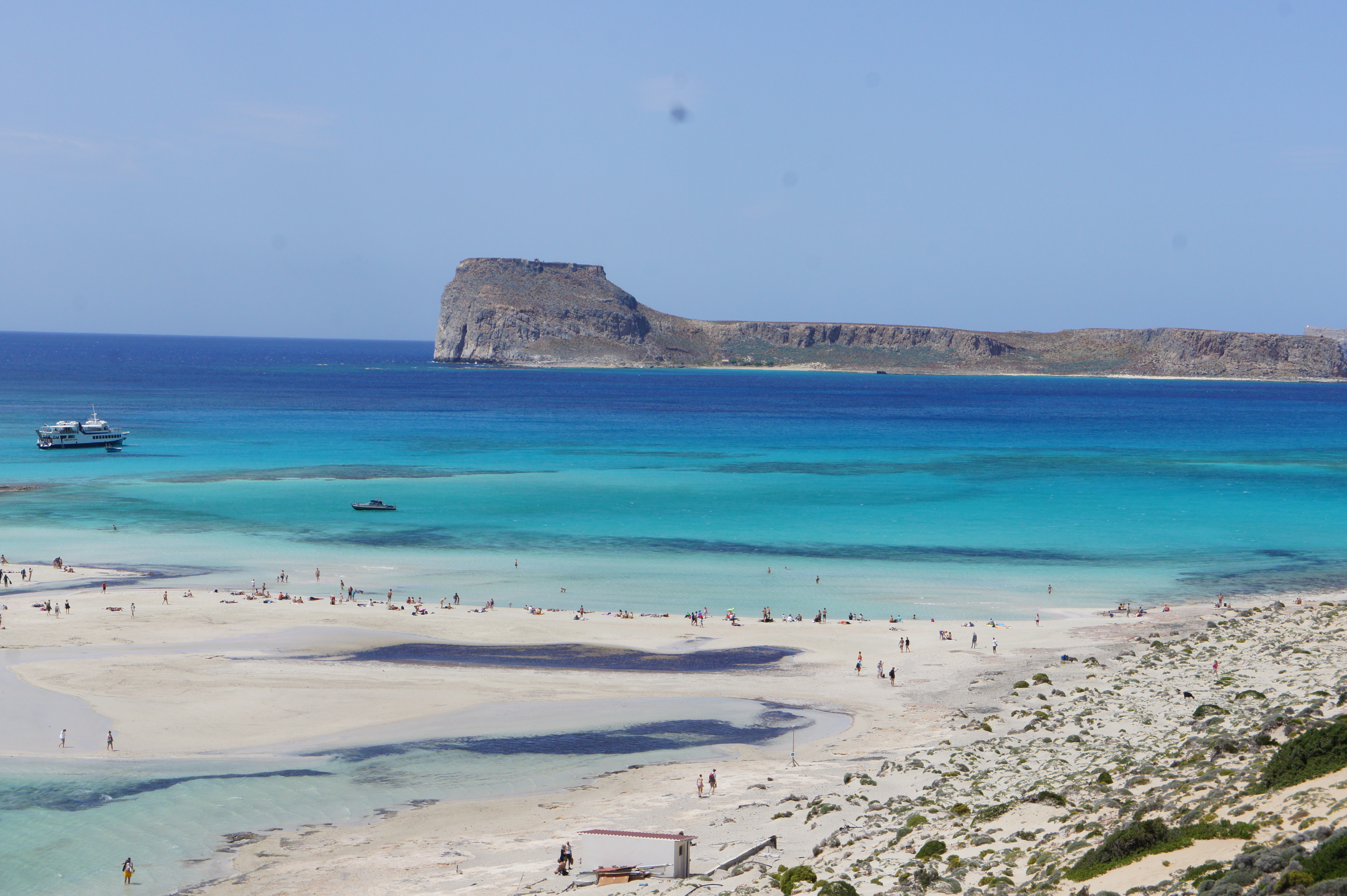 Balos beach
Although atmosphere temperature was perfect (around 25 degrees), water was considerably cold so one can't really enjoy the water in early May. It is the June to September period that offers hot sea water (however, you need to be ready for relatively high atmosphere temperature and very crowded places).
Elafonisi beach
One of our days at Crete, we set ourselves to a rather long car journey from our hotel to Elafonisi beach in the early morning. The route takes you through mountains and thus is quite scenic. However, one has to be very careful while driving especially at some places where the road wraps around a hill and thus one can't see who is coming from another side. Moreover, the road is scarily narrow at some places.
All this trouble is worth taking to arrive at the yet another beautiful beach. The beach is shallow similar to Balos. It is an ideal beach for kids; they can go inside the water and the parents don't have to worry about it. The shallow water was relatively warmer; as you go inside deeper water, the temperature dips.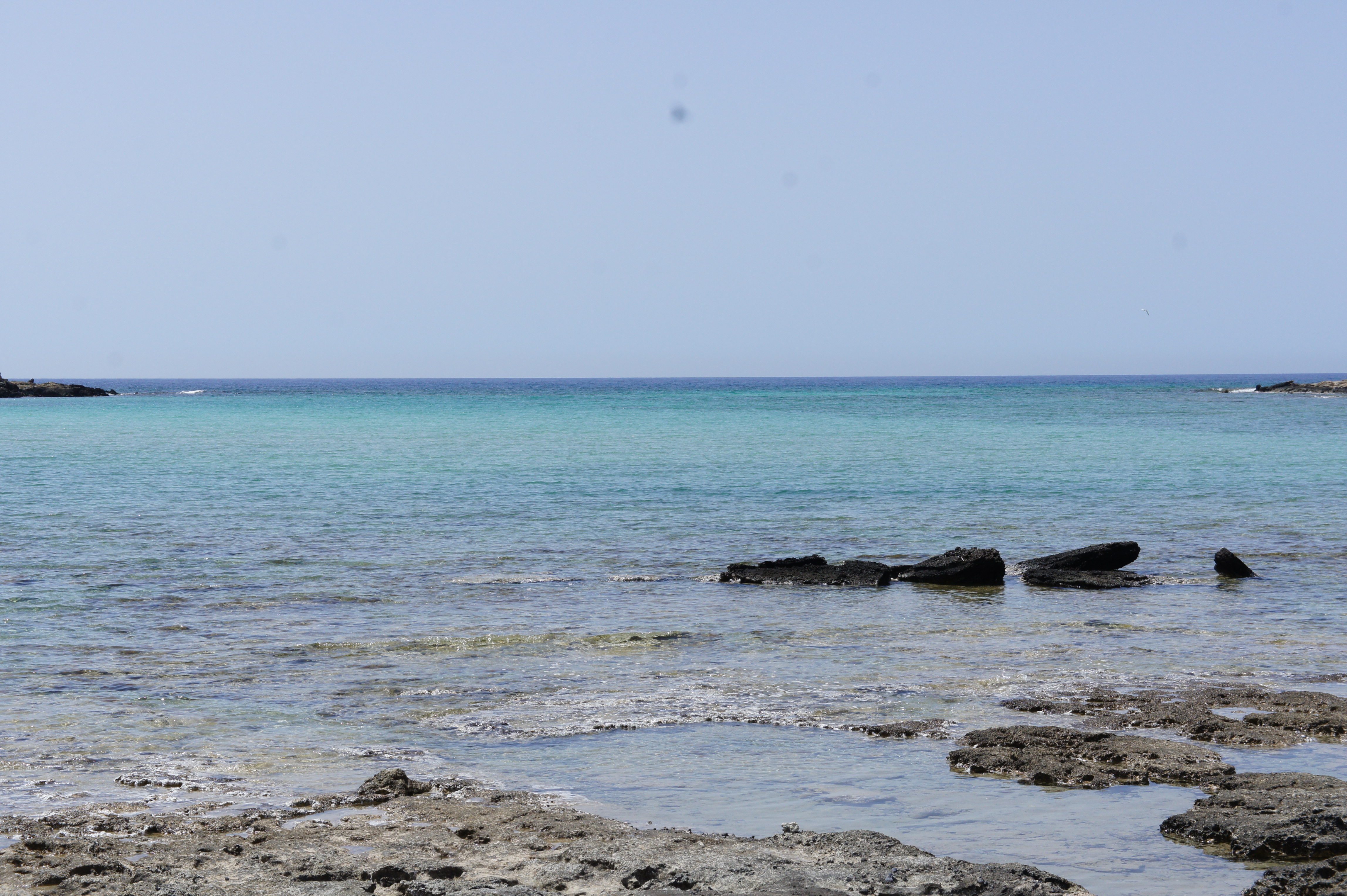 Elafonisi beach
While returning, we (fortunately) lost our way. We moved around in unknown yet beautiful rocky terrain. After driving for some time, we reached the top of a mountain which presented a very magnificent view. Well, it's not always bad to miss a road suggested by Google Maps :)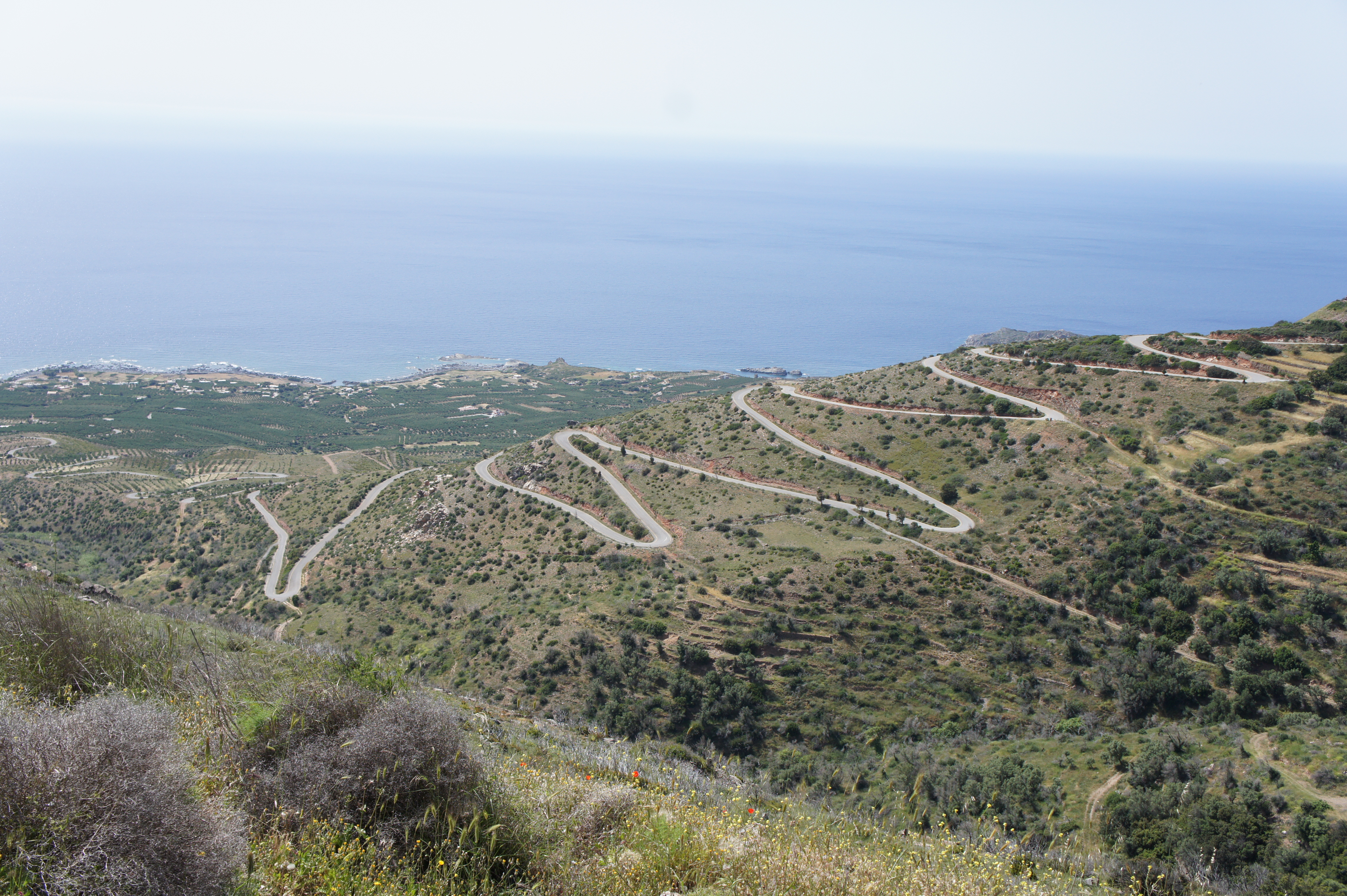 The view from top
Chania
Chania is a small (population: just over 100K in 2011), beautiful, traditional town with a magnificent harbor. One of the days, we reached Chania in the evening. As we started reaching the harbor, the traffic started getting dense and parking space getting scarce. To avoid any surprise, we chose to park at a paid parking lot (3 Euro for 4 hours).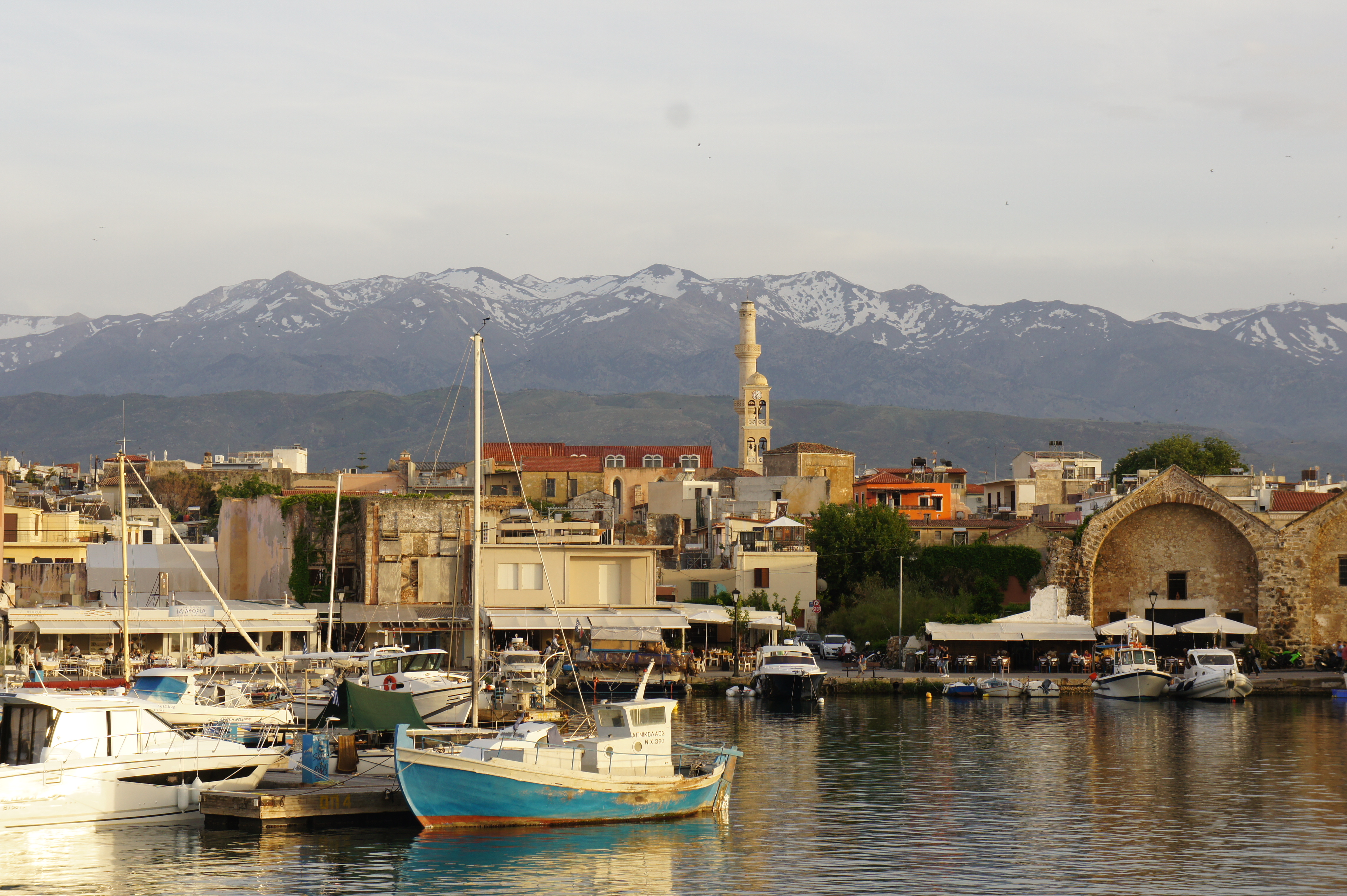 Chania harbor
The atmosphere of the Chania harbor is pleasant and alive. It is very calming and tranquil to sit on a bench facing water having coffee (or beer; your choice) in one hand and observing the sun to set slowly and at the same time observing smiling and happy faces. The feeling is beyond words.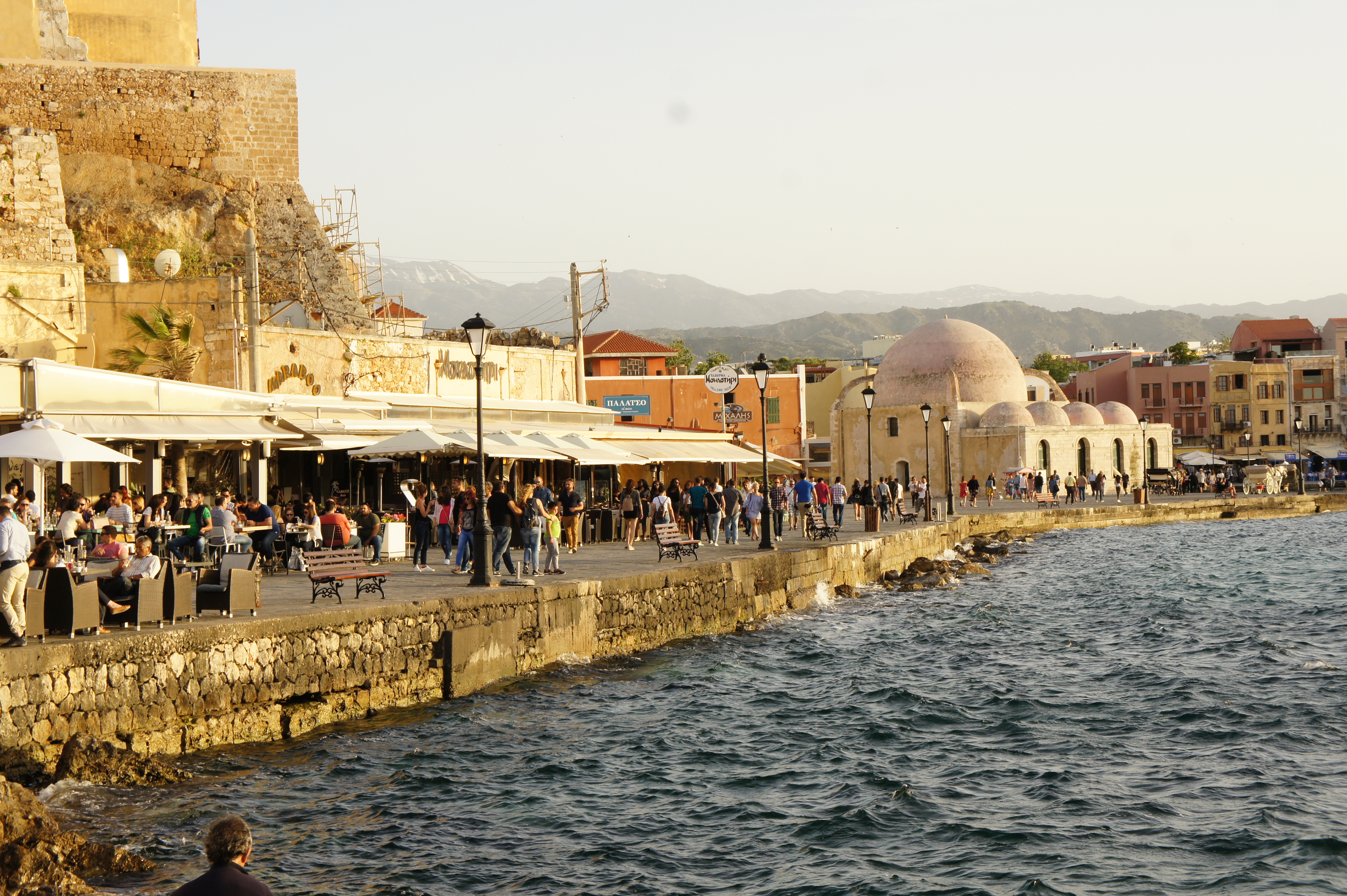 Chania harbor
When the sun was about to set, we went to the end of the harbor to see the beautiful sunset and click photos. Due to some clouds, the sunset became even beautiful.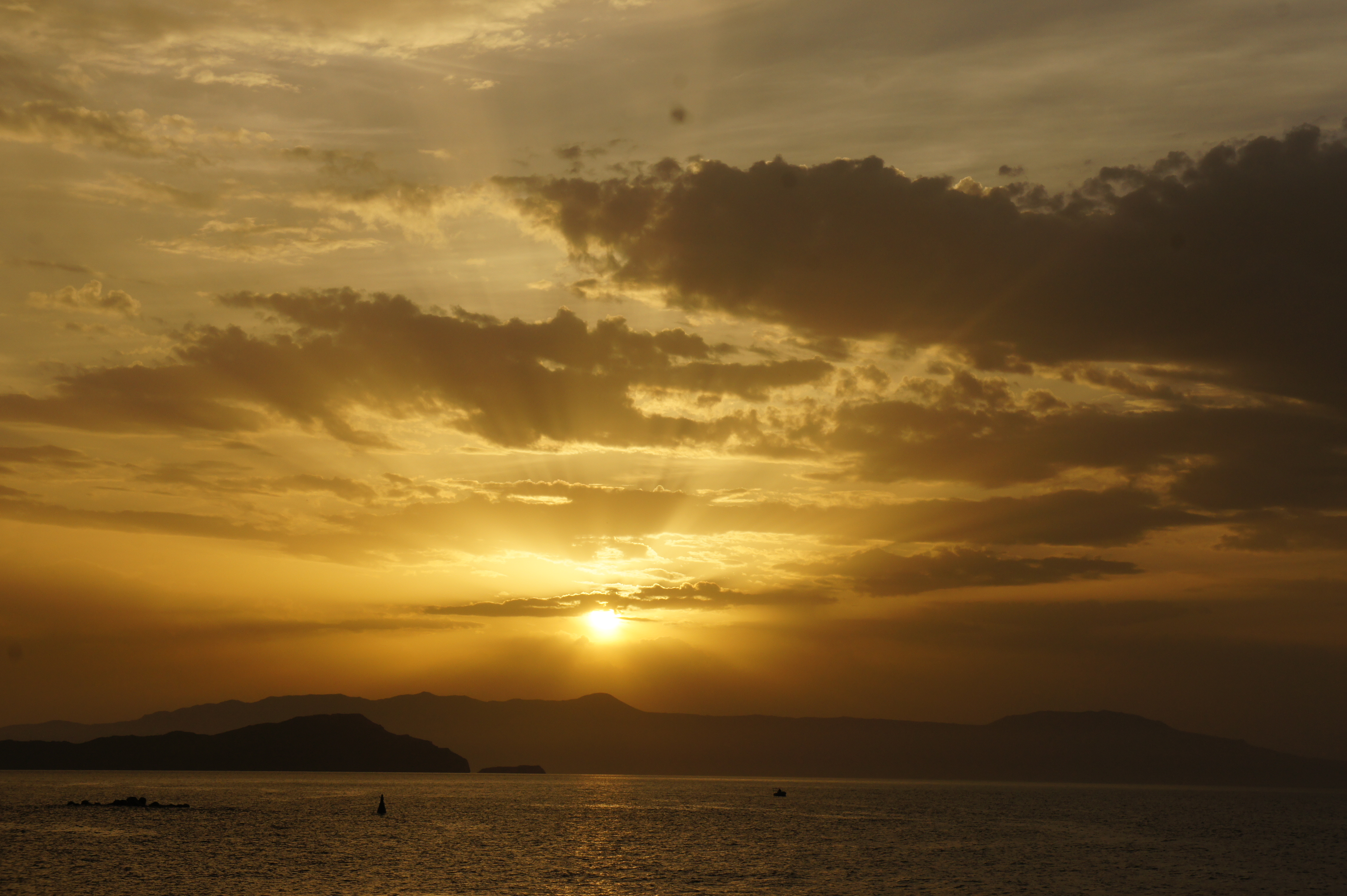 Sunset at Chania
The walking path along the harbor is full of restaurants and souvenir shops. Along with this path, there are many small boats offering a short (1-2 hour(s)) trip to nearby areas/islands. Or, if you want to feel royal, take a ride on horse and carriage. Or, just stroll on this path and you will definitely feel great. After sunset, the area presents another breath-taking night view.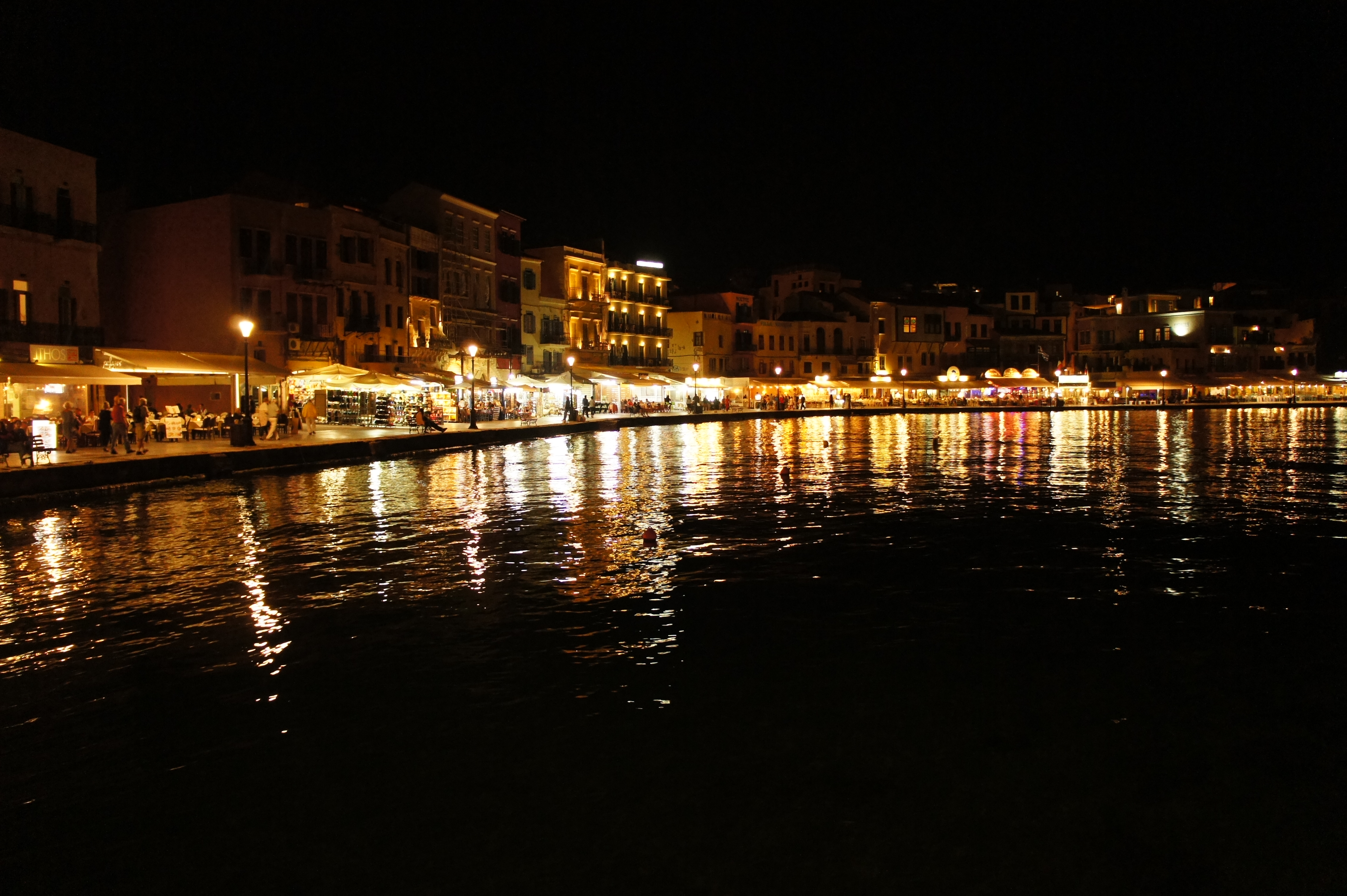 Chania harbor at night
The lighthouse presents another beautiful view of the harbor.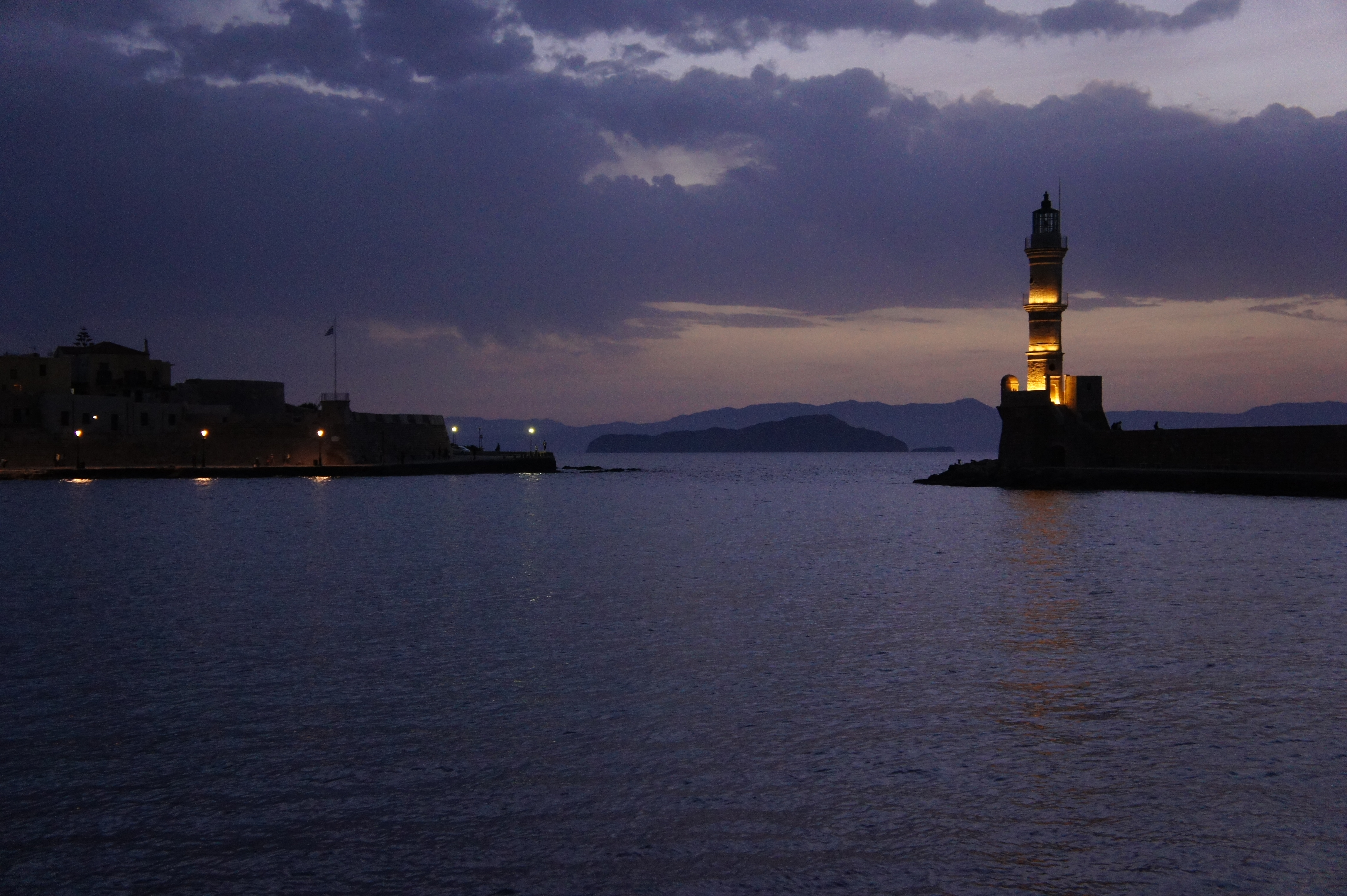 The lighthouse of Chania
Food
Cretan food is considered best in Greece and in my opinion, it's not an exaggeration. We are vegetarian and we were amazed to find many more vegetarian options compared to a random restaurant in Athens. We had many nice preparations during our visit (such as dakos, cretan salad, boureki, and zucchini fritters/balls). I was told that many restaurants use their own produce to prepare food.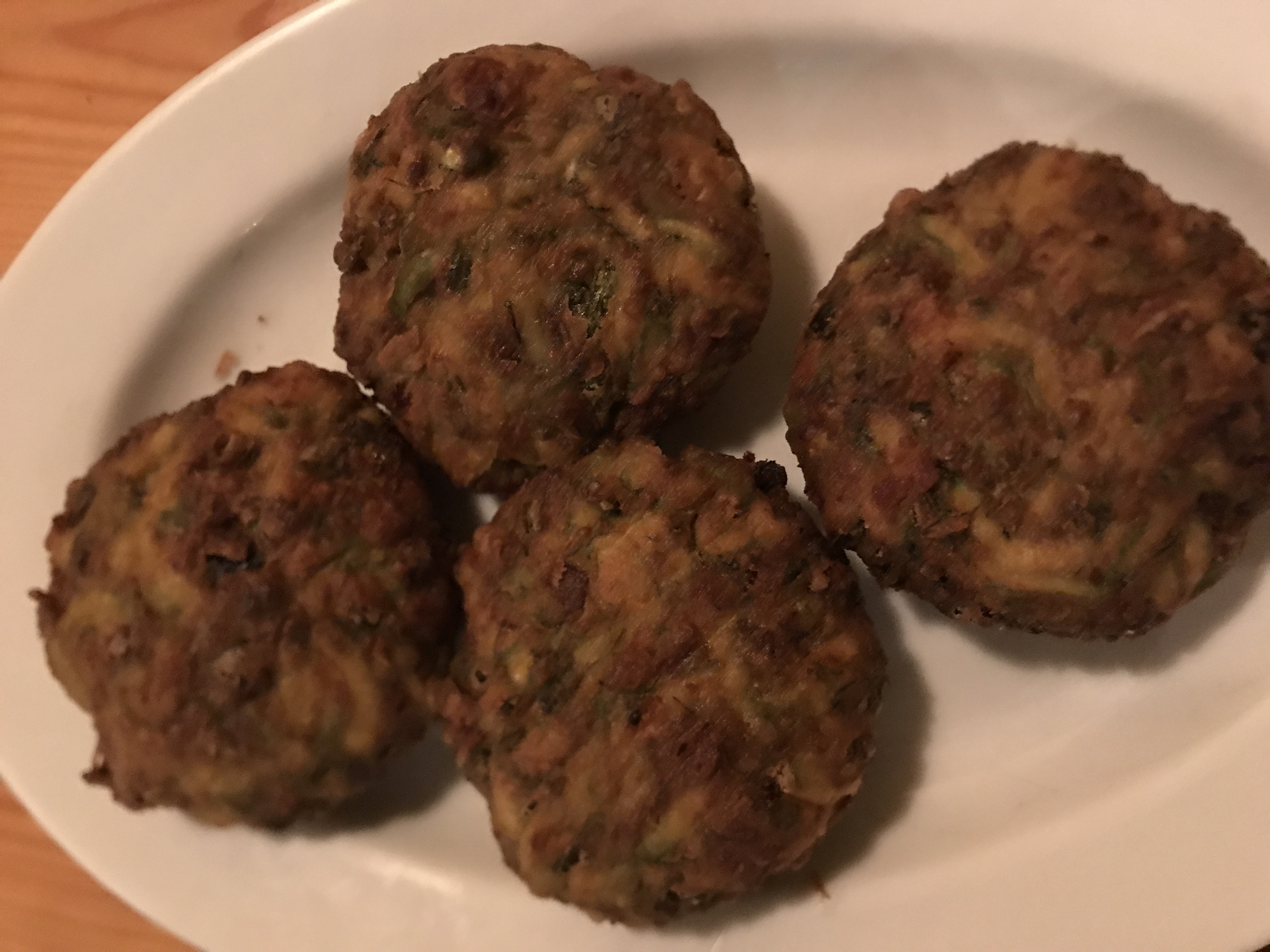 Zucchini fritters/balls
We had a distinctive experience with Tamam restaurant. It's an old restaurant and the place has a history associated with it. Tamam is derived from Turkish word Hamam which used to a large (steam) bathing place. Food at this restaurant is simply awesome. I tasted the best zucchini balls/fritters that I ever had in my life. Boureki was also great.
Cretan hospitality is quite known. All the restaurants where we had food, offered complimentary sweets or drinks (raki - a local alcoholic drink) with our bill. Plus, the staff were very polite and welcoming.
Flora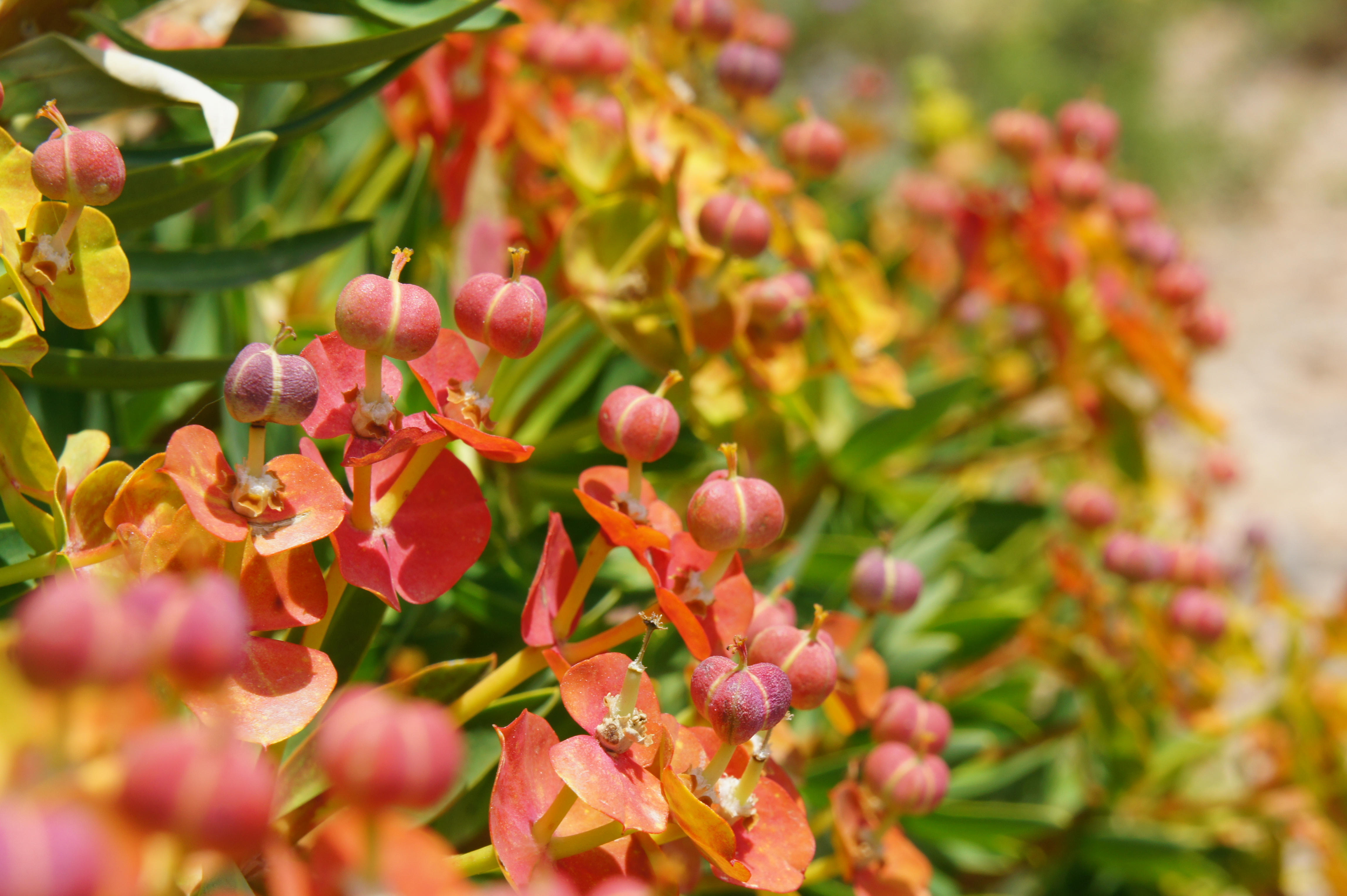 Flora
A common saying about Crete is that you can just throw any seeds in a field and nature will take care of them. I literally saw that plants were blooming without any human efforts.
Driving
In this trip, I drove around 335 KMs and I found driving in Crete fairly easy and non-stressing. The majority of the roads are wide and well-maintained. You need to be careful when you are driving in mountain area; resist your temptation to get distracted by the beauty of those mountains. Also, roads at some places in these mountains are very narrow with blind turns.
Public transport
We didn't use public transport but I saw buses running to/from Chania. You can find some more information about public transport in Crete here.
In summary, it was an amazing trip. We experienced the best beaches that we ever saw so far from our eyes. Whether it is beaches, food, tranquility, or hospitality - Crete has a lot to offer. Crete has taken my heart and I promised to myself to visit Crete again hopefully soon.