How to Get a Resident Permit in Greece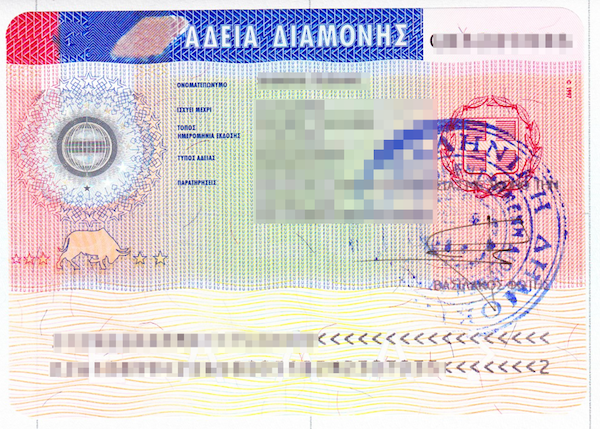 This is going to be a long post; so hold on. My goal to write this article is not only sharing the process of acquiring a resident permit in Greece but also to share my experiences (read frustration) during this process.
It must be easy to follow rules and difficult to bypass them. If it is other way round, the system breeds defaulters. Well... I am not sure whether it is the case here in Greece; however, it is indeed difficult, effort intensive, and time consuming to follow rules here. I am saying this based on what I experienced in almost in a year to acquire the resident permit in Greece for me and my family.
Let me elaborate.
The first contact
It started in January first week when I approached Ministry of Interior and Administrative Reconstruction office in Athens. The website of ministry is in English also but it is a mystery - I am not sure how to dig information for making an application for a permit on this site. Thankfully, one greek friend helped me to figure out the required documents to apply for a resident permit. He was generous - he accompanied me to go the ministry's office too.
When we reached there we were asked about the appointment. Yes, an appointment!! We didn't know that an appointment is required to make the application (the web-site doesn't mention this). So, we were treated like unwanted, uninvited guests; we were made to wait outside of the office for a couple of hours. After that, the guard, who is allowing people like us to go in one by one, called us and I was able to apply for the permit and submitted the required documents.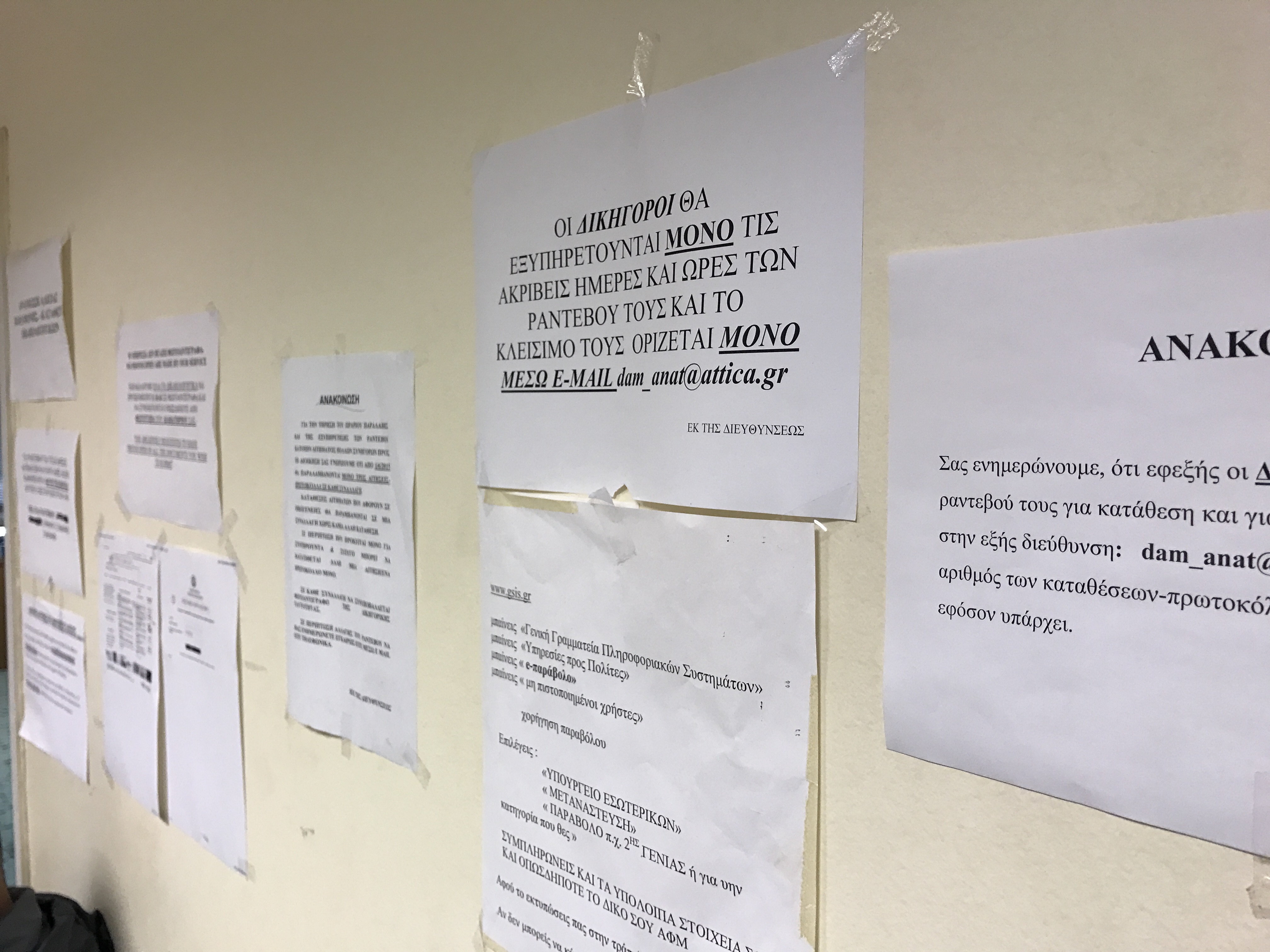 Inside view of the ministry's office
The ministry's office deals with non-greeks but almost all the sign boards are in Greek!! Even more, many employees cannot talk any language other than greek!! Welcome in Greece. :)
After this incident, we don't want to go there without an appointment. We need to call one of the three phone numbers to make an appointment. The stone-age mechanism to book an appointment is inefficient and arduous. If you call ten times and somebody picks the phone, that is your lucky day. Whenever you want to book an appointment, try all three numbers. If you are not that lucky, you need to try multiple times at the different times of the day.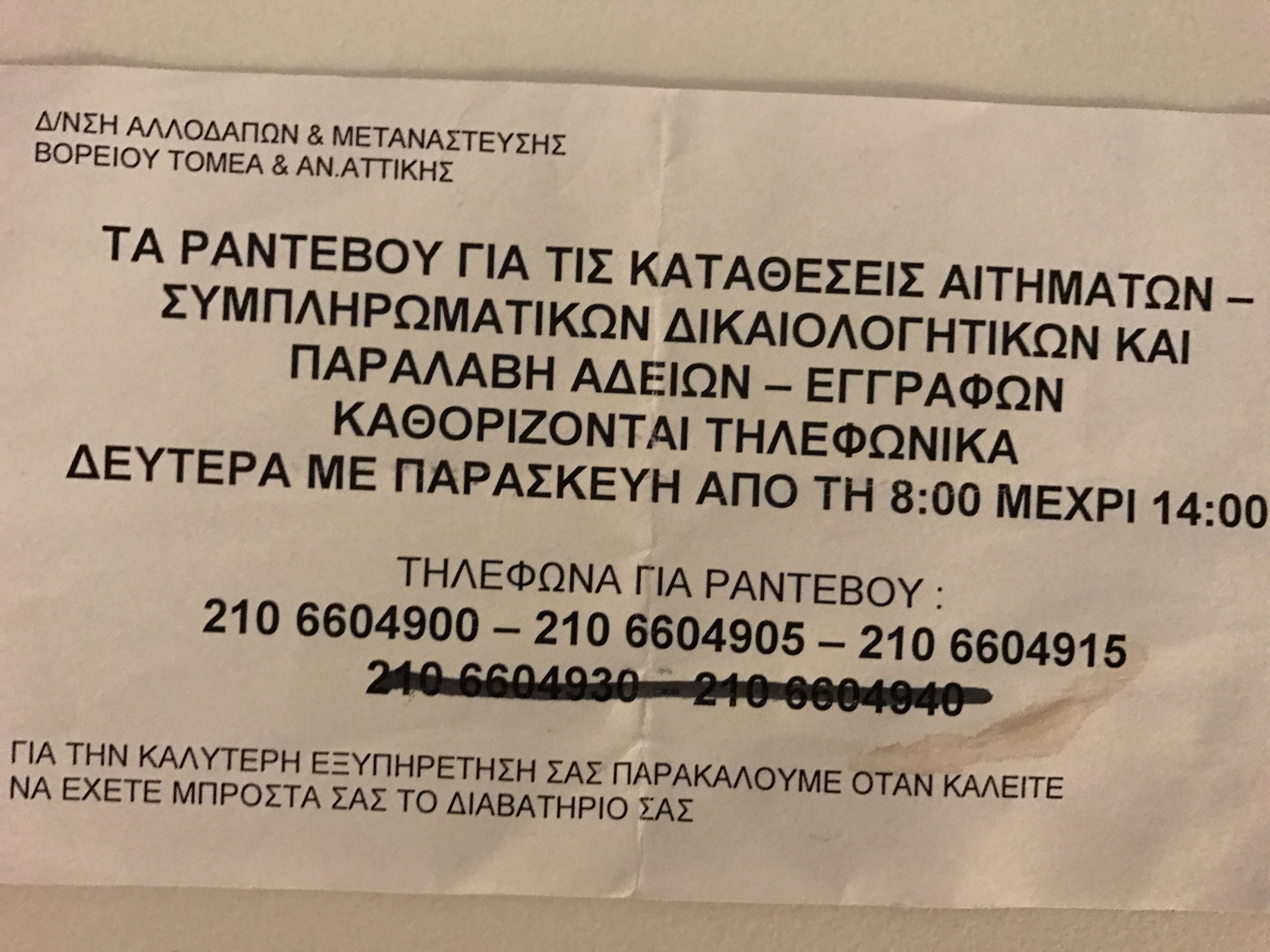 Contact numbers to book an appointment
I don't know why there is no online system to reserve an appointment. The test of luckiness doesn't end with a successful call, you need to ask the person who is picking your call "do you speak English?" Yes, many times, after trying hard to reach an officer on phone, (s)he says (s)he doesn't speak English and put down the phone. Pheww!! If you are extremely lucky to get an officer who speaks English, he will ask a few details and book an appointment for you. Mostly, you will get a date after a month.
You might be wondering why I needed an appointment when I already made the application. Well... it is not easy to fulfill the requirements of a resident permit. In fact, one needs registration to an insurance company to get resident permit and resident permit to apply for an insurance. And I thought, cyclic dependencies only occur in software systems.
To break the cycle, the office has introduced an intermediatory step. We need to apply for the permit with all but the insurance papers. The required document are:
Copy of passport
Original passport
Copy of visa
Copy of the employment contract
Original Employment contract
Photos (2)
Fee payment receipt (Fee is 150 Euro per year; can be paid by e-banking)
Once the request is made successfully, I got a certificate (officially known as "ΒΕΒΑΙΩΣΗΣ ΚΑΤΑΘΕΣΗΣ ΓΙΑ ΕΚΔΟΣΗ ΑΔΕΙΑΣ ΔΙΑΜΟΝΗΣ") which is a proof that I have made an application for my resident permit. This certificate (sample shown below) could be used to apply for insurance. Please note that it is not an interim resident permit.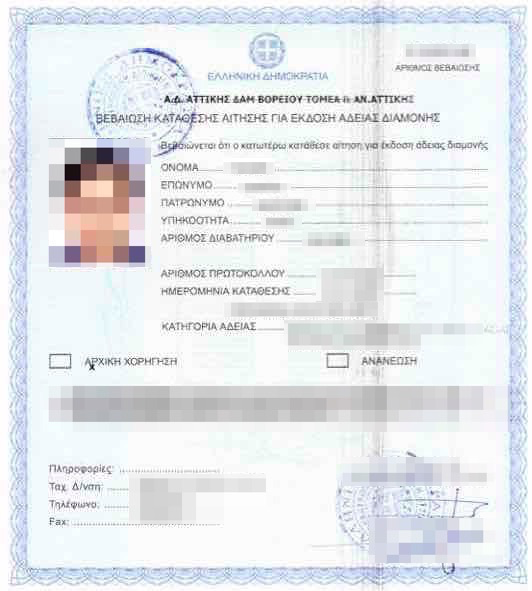 Certificate of submitting initial set of documents
Fulfilling the requirements
To enroll in an insurance company, I required to be registered as a freelancer (it's like resolving dependencies while installing a software). I did the initial research and my greek friends also helped me in the process. I realized that the long list of steps for freelancer registration is not what I can do without knowing greek. So, we hired an accountant to help me set up my books, register me as a freelancer, and insure me with an insurance company. After providing some documents as well as many authorization letters, I got insured via OAEE (an insurance company).
With a letter from OAEE, I fulfilled all the requirements to get a resident permit. I arranged an appointment again with the help of my greek friends and submitted the document. After some ten days or so, I saw that the status of my application is "approved". Hurrayyy :)
Yes, one can track the resident permit application status online (http://pf.emigrants.ypes.gr/pf) but only after all the documents are submitted.
In the excitement, I reached the ministry's office next day. By the way, the office was quite far from my home; it takes more than 1 hour for me to reach there using public transport. I reached the office and told the security guard that I just need to collect the permit. He said - "Do you have an appointment?" I said, "no; but, I just need to collect the approved permit". He did not allow me to go inside and I have to come back with frustration.
Starting the process for the family
By that time, my family also arrived in Greece and I have to apply resident permits for them too. I had an appointment for both of them. The following documents are required to apply resident permit for spouse and kid:
Copy of passport
Original passport (just for verification; they will give it back)
Copy of valid visa
Receipt of fee (there is no fee for kids)
Proof of marriage (for spouse)
Birth certificate (for kid)
We went to the office and made the applications. One of the required documents for my wife was "marriage certificate" to prove the relationship with me. Similarly, my name was required on the birth certificate of my kid. That's fine. I had both the certificates with apostle from the Indian government. So, I was pretty sure there cannot be any issue. I was surprised when the officer asked me to produce greek translation of both the documents!! I argued that both the documents are in English (and not in any local Indian language) but they want Greek translation. Not really pleasant.
Well... one good thing that happened on that day is that I got my resident permit. At least some reason to cheer. A sample of a resident permit is shown below which is a sticker that is pasted on one of the empty pages of the applicant's passport.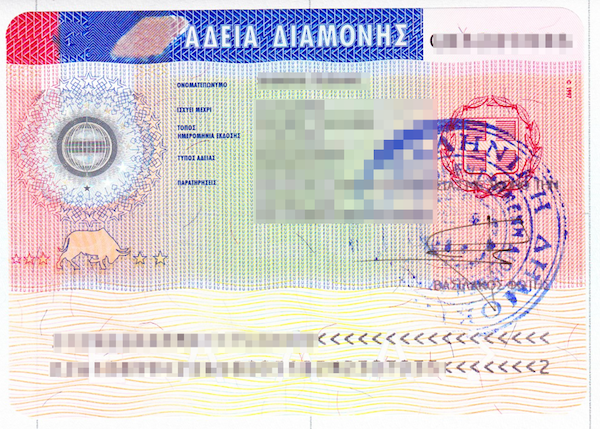 Sample of a resident permit
Greek translation
Getting a greek translation is fairly simple (if you know where to go). At first, I tried to contact some lawyers for the translation. The lawyers were asking too much money (100 Euro per page) for translation and certification (verification). I was hesitant to go to the office of Internal Affairs Ministry that provides translation services. However, I gathered my courage and went there with my documents. This is fascinating (again); this office mainly serves non-greeks but all the sign boards are in greek and the officers barely express themselves in English. However, it was a pleasant surprise that they accepted the documents and charged only 11 Euros for one page. I got the translation after a week. Nice.
I arranged another appointment and submitted the translated documents. Now, they wanted me to add both of them in my insurance as the last step of this pursuit.
Fulfilling the last requirement
I approached my accountant for helping me in this matter. She was on vacation (yeah, it was summer vacation time in Athens). Then, I went to the insurance company office alone. I couldn't do much since I don't speak greek and they don't speak English. I requested one of my greek friends to help me out. He came to my rescue. There, we came to know that we need AMKA (kind of a social security number) for both wife and kid.
I asked in one of the KEPs (public service offices) and they said that I need to bring my wife and kid there with passport and AFM (tax number; only for my wife). Next day, all of us went to the tax office near my university from where I got my AFM. After standing in a queue for more than 1:30 hours, we came to know that we need to go to another tax office near our residence. We didn't know that there are many tax offices and we have to go to a specific tax office based on our home address!!
Then, next day we went to another tax office. It was quick. Within 15 minutes, we got AFM for my wife. Then, we went to nearest KEP (which was quite far from the tax office). We got AMKA within 10 minutes. Interestingly, the officer in the KEP didn't ask for the AFM. So, the rules differ from KEP to KEP (and your luck).
I again requested one of my greek friends to help me with the insurance company. We spent more than two hours there to fill many forms, go to KEP (public service office) to get verified declarations and go to xerox shop to get photocopies of various documents. Finally, I got a "Biblio" (insurance book) containing details of all three of us.
Then, I called a couple of times to the ministry's office to get an appointment to submit the proof that my wife and kid are now covered by my insurance. They took the details and said we will inform you when it is ready. Okay, I waited a few days.
One day, I got a call from the ministry's office that I need to get a certificate from the insurance company stating that my wife and kid are covered by my insurance. I was happy that the application is progressing. During the call, I asked the officer to provide me an appointment since by this time I understood the importance of an appointment. The officer said, "it's not required; you just need to hand over this document to one of the officers with your passport copy." Fair enough.
Touching new levels of frustration
Next day, I went to the insurance company with my greek friend and got the required certificate. That was relatively easy. However, when I went to the ministry's office to submit the document, the security guard denied the admission without an appointment. I was explaining that one of your officers told me that it is not required but he didn't listen to me. I thought, anyway I have come here so spend some more time and wait here. So, I waited there. As explained earlier, if you don't have an appointment, you have to wait for your turn based on first come first serve basis. The security guard takes care of the scheduling. Now, I waited there more than 3 hours in the hope that the guard will call me. I was checking with him periodically and he was saying me to wait. At 1 PM, the officers stopped processing requests and at 1:30 PM the guard called the last person whose request will be processed and asked me to leave. Interestingly, his name was written after my name in the list the guard was processing FCFS! I felt very frustrated after wasting 3 valuable hours.
It's an irony that I started writing this article when I was waiting in the ministry's office that day.
A long wait
I arranged another appointment with the help of one of my greek friends. The appointment that I got was one and half months away! So, we just need to wait. An important aspect that I realize is that visa of my wife and kid was going to expire in next one and half months. If they don't get resident permit by that time, they have to go back to India and apply for a visa to come back!! Scary thought.
The last leg
Before going there, we thought that this is probably the second last time we are visiting the ministry's office (this visit to submit the pending documents and one final visit to collect the permits). We went there and submitted the required documents. The officer accepted our documents and said: "Congratulations, you are done". We were happy and we started moving from there after saying a warm thank you. Suddenly, she said - "Wait" and immediately a scary thought came to me - "Is she going to ask for another document?". But, no; she said that we can wait here for half an hour and then we can collect our permits. Wow!! It was a pleasant surprise. Indeed, after half an hour we got the permits. What a relief.
Finally, after struggling for months I managed to get the resident permit for myself and my family. It took more than 6 months for me and more than 7 months for my family to get resident permits. The amount of time and effort required for an individual to comply with the law is significantly high. I am aware that it is a matter of 1-2 weeks in some other (a few selected) countries especially for highly skilled/educated migrants. The effect of such an arduous process could be huge. For instance, such a process could deter such migrants to consider Greece for an even short-term stay.
The process would have been even difficult for me if my greek friends would not have helped me in this process. Thanks buddies :) Also, it is interesting that although the process was painful, in general, individuals were helpful. I can recollect many faces who helped me in one or another way in this pursuit.
I sincerely hope to read a better experience next time somebody writes his/her story about resident permit in Greece.